Ministers praise councils for removing 'unnecessary' road signs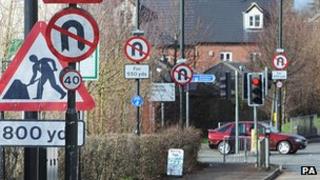 More than 9,000 road traffic signs have been taken down in England in response to a drive to remove "unnecessary clutter" in cities and rural areas.
Ministers praised local authorities in London, Hampshire and Somerset for axing "confusing and ugly" signs and urged other councils to follow suit.
In October 2011, ministers lifted the requirement for certain road signs.
The government plans to give councils more discretion over where they place signs, with new rules expected in 2014.
Ministers have warned that excessive signs can be a distraction to motorists and make roads appear "unattractive".
Following a review last year, the Department of Transport is highlighting councils in England which they say are "leading the way" on removing superfluous signage.
'Blot on the landscape'
In London, it says 8,000 "red repeater" signs - designed to reinforce no stopping or loading messages such as double red lines - have been taken down.
It said research suggested that motorists already had a clear understanding of what red route marking meant and extra signs were not necessary.
Elsewhere, 200 signs have been removed from a twelve mile stretch of the A32 in Hampshire while 1,000 signs have disappeared from Somerset.
Ministers have published new guidance, encouraging other councils to remove damaged and "pointless" street clutter and to place new signs only where there is a "clear need".
"There are too many unnecessary signs blotting the landscape of our towns and cities," said Transport Secretary Patrick McLoughlin.
"London, Hampshire and Somerset are a fantastic example and I urge other councils to think about where traffic signs are placed and whether they are needed at all."
Officials said many signs required lighting, adding to energy and maintenance bills at a time when public funding was tight.
'Important for safety'
Environmental campaigners welcomed the reduction, saying well-intentioned notices often ended up "degrading" the countryside and distracting road users.
"Rather than being hectored by health and safety signs alerting of any possible risk, people driving on rural roads should be encouraged to expect to share minor rural roads with a range of other road users," the Campaign to Protect Rural England said.
The AA motoring organisation said it was "blindingly obvious" to its members that there were too many signs.
"Signs are of course important for safety, regulating traffic and for finding places but we need to take stock, tidy up and remove those that are unnecessary," said its president Edmund King.
"It is disappointing that some highway authorities do not have a clue on the number of signs they have and their locations.
"It is often the case that three signs can be replaced tidily with one, but that needs effort and cash."