Better-off pensioners 'encouraged' to give fuel allowance to charity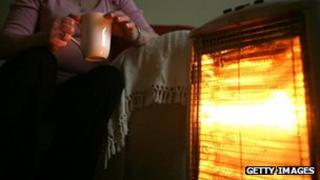 Well-off pensioners who do not need their winter fuel allowance should donate the money to charity, a Conservative minister has said.
Nick Hurd said he would congratulate anyone who gave away the allowance - to which the majority of people aged over 60 are entitled - to a good cause.
The Lib Dems and some Tories have said the better-off should not get age-related universal benefits in future.
But David Cameron has insisted he is committed to retaining them.
Those eligible currently receive a one-off winter fuel payment of between £200 and £300 a year depending on their age and whether they live alone or as a couple.
In their 2010 election manifesto, the Conservatives pledged to maintain the allowance and other universal benefits for the elderly, such as free bus passes, TV licences, free eye tests and free prescriptions.
Protecting benefits
In their coalition agreement, the Conservatives and the Lib Dems said that "key benefits" for older people would be protected in the current Parliament.
But with the need to find billions of further savings after the next election, pressure has been growing on the government to reconsider its position.
Deputy Prime Minister and Lib Dem leader Nick Clegg has argued that such benefits may have to be means-tested in the future.
At their party conference in September, the Lib Dems said curbing such benefits for pensioners with assets of more than £1m was an option that could be looked at after the 2015 general election.
And the Free Enterprise group of Conservative MPs have said ministers must be "brave enough" to tell the wealthiest pensioners that their benefits will be cut.
Mr Hurd, the charities minister, told the Daily Telegraph that the government would honour its pledges on universality but he would personally welcome pensioners who chose of their own accord to give the money to good causes.
"The government is going to stick to its commitments," he said. "But if people take their own decisions that they want to use (the money) for good, of course, as minister for charity, I would support, congratulate and encourage them."
More than £2bn is paid out in winter fuel payments every year.
The minimum age for qualification is the age at which the state pension for women kicks in - currently 61 and five months.
The allowance is currently worth £200 a year for any household with someone above that age. For instance, while a 63-year old living on their own would get £200, a couple both aged 65 living together would get £200 between them.
The payment rises to £300 a year for anyone aged 80 or over.