Hunting: Minister says ban repeal vote 'not imminent'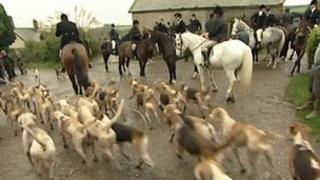 Moves to repeal the ban on hunting with dogs in England and Wales may not happen in 2013, a minister has said.
Speaking to the Daily Telegraph, Environment Secretary Owen Paterson appeared to rule out a vote next year.
But he insisted it was still the government's intention to give MPs a free vote on lifting the ban.
More than 300 hunts are to hold Boxing Day meets, a week after the RSPCA's first successful prosecution of a hunt for operating illegally.
It has been illegal to use dogs to hunt animals in England and Wales since 2005, and in Scotland since 2002.
'Animal cruelty'
Mr Paterson told the Telegraph: "At the moment, it would not be my proposal to bring forward a vote we were going to lose."
But Mr Paterson insisted it was still the government's intention to have a free vote "but we need to choose an appropriate moment".
A spokesperson for the Department for Environment, Food and Rural Affairs confirmed: "The coalition government pledged to put forward a motion to allow a free vote on the Hunting Act.
"This will take place at an appropriate time and if parliament were to vote in favour of repeal, the government would introduce a Repeal Bill in the House of Parliament in due course."
Responding to Mr Paterson's comments, Labour's shadow environment secretary, Mary Creagh, said "most people back Labour's ban on hunting wild animals with dogs".
"People are worried about their incomes falling, prices rising and losing their jobs, yet this out of touch Tory-led government wants to bring back hunting," she said.
The RSPCA prosecution of two members of the Heythrop Hunt has led to claims illegal hunting is still going on.
The hunt's Richard Sumner and Julian Barnfield admitted unlawfully hunting with dogs on four separate occasions.
Heythrop Hunt Ltd also pleaded guilty at Oxford Magistrates Court on 17 December to four counts of the same charge.
Sumner was ordered to pay a £1,800 fine and £2,500 in court costs, Barnfield was ordered to pay a £1,000 fine £2,000 in costs and Heythrop Hunt Ltd was fined £4,000 and £15,000 in costs.
The RSPCA's Gavin Grant said the organisation had "no arguments with people who want to ride their horses with their dogs in the glories of our countryside".
"But we're totally opposed - as are the vast majority of the people in this country - to anybody who's going out there, deliberately, to abuse animals and to tear them to shreds," he told the BBC.
Meanwhile, the BBC's Alex Dunlop says there has been a big turnout at some Boxing Day hunts across the country.
At the Thurlow Hunt - one of the oldest in Britain - dozens of riders set off as their dogs followed an artificial trail of fox scent.
Many supporters have also shown up in support of the tradition, according to our correspondent.
'Other priorities'
Hunts are no longer allowed to use dogs to chase down foxes, but are instead supposed to use techniques such as drag hunting, where dogs set off on the trail of a scent laid about 20 minutes in advance by a runner or rider dragging a lure.
Animal welfare charities, including the RSPCA and the League Against Cruel Sports (LACS), have commissioned research which suggests that only 15% of people want to scrap the ban.
Joe Duckworth, LACS chief executive, said the organisation was "intensifying our campaign against illegal hunting," investing £1m in recruiting new professional investigators and quadrupling frontline personnel working to catch people hunting illegally.
"Three quarters of people in this country want to see fox hunting stay illegal," he added.
But the Countryside Alliance says it has seen no slackening of support for hunting in recent years, and on the busiest day of the hunting season, members of hunts across the country will be out in force in a continued show of support for their sport.
Speaking to BBC Radio 4's Today programme, executive chairman Sir Barney White-Spunner said: "If you were going to go for some sort of repeal [of the ban] then it would probably take a... huge amount of parliamentary time at a time when the government and parliament's got other priorities.
"But I'm absolutely confident the act will be repealed and I think in the meantime the country people trust that the prime minister will deliver what he can."