Pickles 'bargain' claim anger councils facing new cuts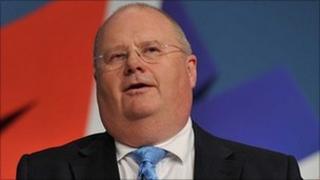 Without a sprig of mistletoe in sight, the Communities Secretary Eric Pickles has gone all festive.
He's never seen eye-to-eye with councillor Graham Chapman and the rest of the Labour leadership on Nottingham City Council. They've been exchanging political swipes on megaphone terms since deficit reduction cuts began squeezing council budgets.
But this Christmas, he's sent personal greetings. This wasn't one of those web site generated e-cards, but on prime-time TV.
"Graham's a nice chap, and if he's looking in - happy Christmas Graham," Mr Pickles told viewers of the BBC's East Midlands Today.
He was rounding off an interview he gave me on the so-called local government settlement, the cash councils can expect from the Treasury for the next financial year.
Local councils in England cost the government £114bn a year. That's £1 for every £4 spent on public services. The Coalition's set a target to chop its funding to councils by a third over the next few years.
Town halls have juggled with three years of government-imposed budget cuts. The "settlement" for the next year is a further cut, on average a reduction of 1.7%.
"That represents a bargain to local authorities," Eric Pickles told MPs.
But the devil is in the detail and local government finance can be very complex.
"A small number of authorities will require larger savings to be made," added the communities secretary.
"But no council will face a loss of more than 8.8% in their spending power thanks to a new efficiency support grant.
"But councils will have to improve services to receive this grant. It's not fair on the rest of local government to expect them to subsidise other councils' failure to embrace modernity."
However, take two very contrasting East Midlands local authorities - Derby City and Rutland County Council.
Direct impact
They have little in common, but they now both face the next financial year with 2.3% less cash from the Treasury. That's noticeably higher than the 1.7% average. Bolsover in Derbyshire will have an 8.8% cut - one of the highest in English local government.
In our big cities, political leaders and their finance chiefs are working out what it all means.
It'll have a direct impact on jobs, services and council tax. Expect to hear the political accusation of "smoke and mirrors" directed at Mr Pickles.
At 0.5%, Nottingham City Council appears to have escaped lightly with a lower reduction than the overall national average.
Leicester's City Mayor, Labour's Sir Peter Soulsby, even gets a slight grant increase of 0.01%.
So has Eric Pickles waved some Christmas magic dust over certain councils in the East Midlands.
Not so, according to Graham Chapman. His council fears a funding gap of £25m next year.
"It's going to have an impact on elderly care and child protection," he told me.
"We're going to have to reduce spending on repairing the roads and libraries.
"What upsets me is the unfairness of it. Some of the authorities down south are not being hit as hard."
Yet Mr Pickles is offering cash incentives. Business rates are worth £11bn to English local government and, from April, town halls will keep that rather than it going direct to the Treasury.
"Striving councils will benefit from doing the right thing for their communities. If they bring in jobs and businesses, they will be rewarded," he said.
"I know Graham is very keen to regenerate where the old lace-making used to be in Nottingham and expand its media centre. Well, he'll get the money to expand those ambitions."
If there's something of a Christmas truce between Eric Pickles and Nottingham's Labour leaders, don't expect it to last.
As councils embark on their budget setting in the New Year, the budget squeeze will cause fresh political anger.