Politics in 2012: Nick Clegg's tuition fees apology did little to boost Lib Dem fortunes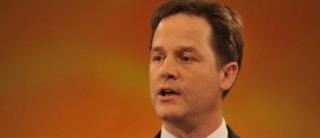 This was the year that Nick Clegg apologised.
He had broken a pre-election pledge to oppose any rise in university tuition fees and for that, he said, he was sorry.
The PM programme on BBC Radio 4 set the apology to Elton John singing, What Have I Got To Do To Make You Love Me?
It was a telling choice of tune. Nick Clegg's apology, however sincere, was an attempt to arrest an alarming decline in his own and his party's popularity.
'Toxic brand'
But according to the president of the YouGov polling firm, Peter Kellner, it didn't work.
"Nick Clegg is a toxic brand," he argues. "Fewer than 20% think he's doing well as party leader and deputy prime minister.
"Around 70% typically think he's doing badly.
"These are simply terrible figures. I find it hard to see how the Liberal Democrats could recover with him leading the party at the next election."
The plunging popularity of Mr Clegg and his party has been made clear at the polls.
The Corby by-election in November was possibly the lowest point. The Lib Dem candidate, Jill Hope, lost her deposit, polling less than 5% of the vote.
She accepted that her party leader was part of the problem.
"Yes he's a problem for our party, but I don't know whether that's Nick's fault.
"And I don't think the Liberal Democrats are like other parties. We don't dump somebody because they're unpopular. Every single person I know that has met Nick respects him and regards him fondly.
Coalition 'conscience'
Mrs Hope is typical among Lib Dem activists, in that she remains supportive of her leader - reserving her ire for the party's Conservative coalition partners.
"Can you imagine the draconian measures that would be implemented if we weren't there on their shoulder like Jiminy Cricket as their conscience, making them do things for ordinary people, for lower-paid people?"
This line of attack - that the Liberal Democrats are the "conscience of the coalition" - gives a clue to what the party's narrative might be at the next election.
Activists have had their cherished hope of reforming the House of Lords dashed.
They have seen the number of Lib Dem councillors falling below 3,000 for the first time in its history. But they insist there is plenty to shout about.
This was the year, they say, in which Nick Clegg won key concessions on the controversial health bill - and prevented a return to O-Levels.
It was the year in which Vince Cable convinced the Treasury to fund a British Business Bank, and more free childcare for parents on low incomes.
It was the year in which Mr Clegg drove through the Lib Dems flagship policy of lifting the level at which people begin to pay tax - giving a tax cut to more than twenty million people.
Sir Nick Harvey - one of the longest serving Lib Dems in the Commons who left the government in September's reshuffle - believes Mr Clegg has to remain in charge.
"Nick Clegg was the architect of the strategic gamble of going into the coalition with the Conservatives," he says.
"I just don't think the issue arises of getting shot of Nick Clegg. It was a five-year strategy and people still have the belief that the strategy was right."
Political strategy
No one, then, is talking seriously about a change of leader.
But there are murmurings about some of Mr Clegg's decisions, including pulling ministers, including Sir Nick, out of the Ministry of Defence and the Foreign Office in the summer reshuffle.
"I did not agree with the decision," Sir Nick says.
"We are an internationalist party. We are committed to the UK's participation to international organisations. We should still be in defence and the foreign office and we may live to regret coming out of both of them."
There has been a lot of talk this year about how the Lib Dems must sharpen their differences with the Conservatives.
Mr Clegg gave a flavour of this in the summer when he withdrew his support for constituency boundary changes, following a Tory rebellion on Lords reform.
But - barring disagreement about energy policy - Nick Clegg has if anything scaled down his rhetoric against the Conservatives since then.
He must soon come up with a strategy to win back popular support.
The protest vote, the anti-war vote, the student vote, the new-way-of-doing-politics vote has disappeared and Peter Kellner believes this has left only a rump of core supporters.
"Unless something dramatic happens, they are bound to lose quite a lot of seats next time.
"So the Lib Dems' challenge in 2013 is to find that big, deus ex machina, that thing that none of us can quite foresee, which will change people's minds about him. I don't know what it is. "
Clearly, Mr Clegg has some big thinking to do.