Politics in 2012: Ed Miliband wins over doubters but policy questions remain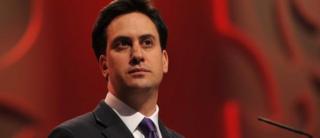 This time last year Ed Miliband was facing questions about his leadership.
Even his allies said he had flickered rather than shone, nudged not led. Twelve months on, his light shines brighter.
For Mr Miliband's supporters - including the unions which lifted him to the leadership - he is on course for Downing Street.
The outgoing general secretary of the Trades Union Congress, Brendan Barber, says Mr Miliband has established himself "extraordinarily well".
"After previous defeats, the Labour Party has often been riven by big internal divisions. That has been avoided," he argues. "There is a real sense that this is winnable next time round."
It was the political enemy that perhaps did more than anything to improve the mood of the Labour Party.
Conference performance
A poorly handled Budget in March, replete with PR disasters, gave Mr Miliband a free lunch.
Labour then performed well in council elections in May. And throughout the summer it gained in the polls, as the economy slipped back into recession.
The major turning point - when the whispers about Mr Miliband's leadership stopped - was the party conference in early October.
A confident, belligerent address delivered without notes pleased activists and helped finally to win round an underwhelmed parliamentary party.
"The Parliamentary Labour Party had to get over the fact that collectively we had preferred David to Ed," Labour MP Gisela Stuart says.
"It then started to get a sense of his steeliness, which wasn't terribly obvious."
Public perception
Mr Miliband might have won round Labour MPs, and impressed the trade unions - despite his support for the ongoing pay freeze in the public sector.
But Peter Kellner, the president of the polling firm YouGov, says he has yet to make a positive impact on public opinion.
"Ed Miliband's ratings have gone up since the start of the year. Or perhaps it is more accurate to say, they are not as bad as they were.
"Still more people think he's doing badly than well, but the difference is narrower."
The slow progress could be down to Mr Miliband's stance on the economy. He has been criticised for opposing cuts without having a plan to cut the deficit.
Gisela Stuart says that in time the Labour leader must give more detail.
"As you go towards an election, we'll have to much clearer about what an alternative Labour government will look like," she suggests.
"And that will have to spell out some of the harsh cuts, some of the things which we can no longer do."
'One Nation'
Mr Miliband has instead concentrated on big picture politics this year.
He has promised to change the way capitalism works; push through fundamental changes in the banking system; and rebalance the economy, in part by insisting on low-paid workers being given a "living wage".
This is what most pleases Brendan Barber, who says it is vital the Labour narrative goes beyond deficit reduction and cuts.
He said: "Across all areas of policy, not just public spending and the deficit, but social policy, policies for growth and a much more active industrial policy, there is a vision to be drawn together."
Drawn together, Mr Miliband would have it, under a brand new slogan.
Or, at least an old slogan made new. At the party conference, he appropriated a phrase associated with the 19th century Tory leader, Benjamin Disraeli.
New Labour and Old Labour were decisively rejected. In their place, there is now "One Nation Labour".
What that means in policy terms is still unclear, in part because the party's policy review has stuttered badly during the year.
In 2013, Mr Miliband must fix that.
And he must try to find a way of criticising the coalition's cuts, while making Labour credible on the economy again - still its biggest challenge.