Eric Pickles gives councils 50 money saving tips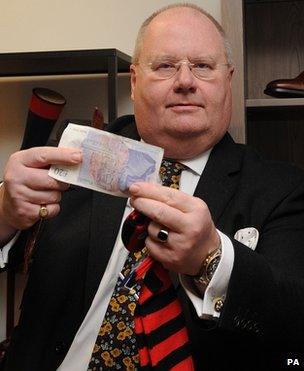 Councils should stop translating documents, should put adverts on council tax bills and rent out their works of art, Eric Pickles has said.
The communities secretary produced a list of 50 money saving ideas, after announcing further funding cuts.
Other suggestions included opening coffee shops in libraries and banning mineral water at council meetings.
Labour's Hilary Benn said Mr Pickles' artwork idea showed he was "living on a different planet".
The ideas also include ways to reduce spending on procurement and improve revenue collection.
There is advice ranging from closing subsidised council canteens to cancelling "away days in posh hotels and glitzy award ceremonies".
It says that translating documents into foreign languages should be ended, noting that doing so "undermines community cohesion by encouraging segregation".
The Department for Communities and Local Government (DCLG) says it is leading by example, cutting more than £400,000 from its spending on refreshments by stopping providing free food and drink at meetings, and reducing first class rail travel from £200,000 to £17,500 a year.
It urges the use of hot-desking to cut office space needed, and suggests councils follow the DCLG example of allowing "pop up shops" to open on their premises.
Another suggestions is to sell services, such as opening up council-run MoT centres, which are currently restricted to council vehicles, to the public.
Mr Pickles said: "Every bit of the public sector needs to do their bit to pay off the budget deficit inherited from the last administration, including local government which accounts for a quarter of all public spending.
"Councils should focus on cutting waste and making sensible savings to protect frontline services and keep council tax down."
"These savings will also help councils take up next year's council tax freeze, which offers a further year of practical help with the cost of living to families and pensioners across the country."
Shadow communities secretary Hilary Benn said the latest funding announcement meant many councils were facing a 28% cut over four years and was creating a "real crisis".
In response to the list of money-saving tips, he said councils had been making efficiency savings and had shed 230,00 staff already, but had still needed to cut services.
He said Mr Pickles' idea of councils renting out their artworks for cash "demonstrates that he's living on a different planet to the people working hard in councils trying to provide services".