Met police chief defends 'plebgate' officers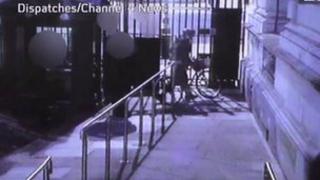 The Met police chief has said he has seen no reason to doubt claims by police officers that former Chief Whip Andrew Mitchell called them "plebs".
Bernard Hogan-Howe also defended the decision to arrest a different police officer on suspicion of leaking details about the incident.
"When people hear the full story they will support what we've done," he said.
Friends of Mr Mitchell said a Channel 4 programme would "cast serious doubt" on the police's handling of the case.
Ahead of the programme, Channel 4 released a still from CCTV footage of the exchange between Mr Mitchell and police in Downing Street in September.
A Diplomatic Protection Squad officer was arrested on Saturday by officers investigating how national newspapers came to publish police records of an incident at Downing Street, which involved the then chief whip allegedly calling police officers "plebs".
Mr Mitchell apologised for not having shown enough respect to police officers who refused to let him cycle through the main gate to Downing Street, but he maintained that he "did not use the words attributed to me".
'No doubt'
Although the arrested officer was not on duty at the time, they claimed to have witnessed the incident - a claim now being probed by the Independent Police Complaints Commission (IPCC).
The row and its aftermath led to Mr Mitchell losing his cabinet job as chief whip.
Novelist Robert Harris, who has known Mr Mitchell for 35 years, said revelations would be aired on Channel 4 News that would "transform" perceptions of the row.
He told BBC Radio 4's World At One programme he believed the programme would include "evidence that casts serious doubt on the way in which the whole matter was handled".
"I think people will, for the first time, begin to see that there are two sides to this whole event. Whether that will lead to his recall to the front rank of government, I don't know."
It "didn't ring true" to him that Mr Mitchell would have used a word like "pleb", he added.
But Mr Hogan-Howe told LBC radio that he had seen "nothing that causes me to doubt the original account" provided by the Downing Street officers.
The Met has emphasised that there was no evidence to suggest that the officers who were on duty on the day were involved in the unauthorised release of information.
'More to this'
John Tully, the Metropolitan Police Federation chairman, suggested that the decision to arrest the Diplomatic Protection Squad officer may have been disproportionate.
He told the Daily Telegraph: "The thing which disappointed me is around the proportionality of whether it was necessary to arrest the individual. After all, he is a serving police officer.
"Clearly it needs to be resolved, because there are things that we shouldn't talk about as police officers, and this may be one of those cases."
In response to a question about Mr Tully's comments, Mr Hogan-Howe told the BBC: "There's some difficulty in me talking about it, there's an on-going criminal investigation, and also it's now supervised by the Independent Police Complaints Commission.
"I also hope people will understand that there is more to this than meets the eye, and I'm afraid I'm constrained in explaining that, but when people hear the full story they will support what we've done.
"As usual in any investigation, you have to go where the evidence takes you, and we got some new information - we acted on it quickly."