Eric Pickles rejects 'luvvie' MP's call for books before bins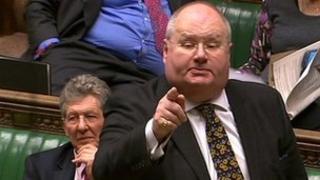 Communities Secretary Eric Pickles has dismissed as a "luvvie" a Labour MP who criticised the government for failing to stop local authorities shutting museums and libraries.
TV historian Tristram Hunt asked why the government had prioritised spending on rubbish collections.
"What kind of abysmal, philistine, reactionary government puts dustbins above library books?" he said.
But Mr Pickles said the MP's analysis was "wholly wrong".
"In towns and cities across England, local authorities are being forced to close museums, shut care homes and end library provision, but the government found £250m to empty the bins more regularly," Mr Hunt said at communities and local government questions in the Commons.
Cambridge-educated Mr Hunt is known for his TV series on the English Civil War and newspaper columns offering a historical perspective on topical matters.
"The honourable gentleman is a bit of a luvvie, so no doubt he is looking very intensely at the drop of culture matters," the secretary of state replied.
Decisions over the provision of such services were taken locally, Mr Pickles added, by "people who care about the general service for the electorate".
"People should look at the way in which more money can come into an authority by exploiting and using their cultural heritage," Mr Pickles added.
"But frankly the honourable gentleman is just lining up a bunch of luvvies. He should listen a little bit more."
The Commons Culture, Media and Sport Select Committee recently warned councils that by cutting library services they were are at risk of failing in their legal duty to provide a "comprehensive and efficient" service.