Same-sex marriage: 'No mandate', say MPs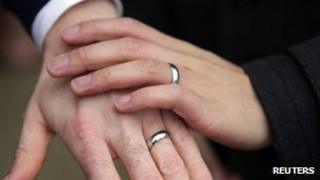 Almost 60 MPs and peers have signed an open letter opposing government plans to legislate for same-sex marriages.
The cross-party alliance, including 35 Conservative MPs, said it believed that the government "does not have a mandate to redefine marriage".
Tories have been promised a free vote, but the issue has divided the party.
Plans to allow same-sex marriages, which are backed by Labour, are due to be introduced before the next election, in 2015.
In a letter published in Monday's Daily Telegraph, the 58 signatories said: "At the last election, none of the three main parties stood on a platform to redefine marriage.
"It was not contained in any of their manifestos, nor did it feature in the Coalition's Programme for Government.
"These facts alone should have led to extreme caution on the part of those calling for this change to be made.
"Instead the government is ignoring the overwhelming public response against the plans."
They added: "The consultation has ignored the views of 500,000 British residents in favour of anonymous submissions from anyone anywhere in the world."
'Quadruple lock'
The signatories include former Conservative leadership challenger David Davis, ex-ministers Tim Loughton, Sir Gerald Howarth and Sir Jim Paice, and the former Archbishop of Canterbury, Lord Carey of Clifton.
Prime Minister David Cameron has said he wants gay people in England and Wales to be able to marry, but that no organisation opposed to the move would be forced to conduct the ceremonies.
And Culture Secretary Maria Miller announced a "quadruple lock" of measures to protect religious freedom, including an explicit ban on the Church of England and Church in Wales performing same-sex marriage ceremonies.
In a recent blog, Mrs Miller explained that the Church of England would itself be able to lift the ban.
"Religious freedom means that each religious organisation must choose its own path in this matter," she wrote
"Should the Church of England decide to carry out same-sex marriage in the future, it can itself amend legislation to effect this with the approval of Parliament."
But this prompted Conservative MP David Burrowes, a prominent opponent of same-sex marriage, to argue that religious freedoms were under threat.
"The ink is hardly dry on the latest proposals before the government is raising the spectre of the Church of England permitting gay weddings," he told the BBC.
"The hand of the state is already tightening around the freedom of churches, and the pressure will only grow if the plans go through."
While some MPs are opposed to changes, others launched a campaign group - Freedom to Marry - last week backing same-sex marriage.
Education Secretary Michael Gove, London Mayor Boris Johnson, Transport Secretary Patrick McLoughlin, Foreign Office minister Alistair Burt, and leader of the Scottish Conservatives Ruth Davidson were among the 19 senior figures to sign up.
Labour leader Ed Miliband and deputy prime minister Nick Clegg support gay marriage in church.
Meanwhile, a Christian gay couple are considering mounting a legal challenge over the right to have a same-sex marriage in the Church of England.
Civil partners Tony and Barrie Drewitt-Barlow, from Essex, who have been together for 25 years, said a ban on such marriages in the Churches of England and Wales would "legally discriminate" against them.
Barrie said: "I want to marry my husband, in the Church, so for me it's a significant piece of paper. It's a piece of paper I want to share with my family and my children."
The couple made history in the 1990s when they became the country's first pair of gay fathers, using a surrogate, and now have five children.