Problem families: Case worker intervention 'works'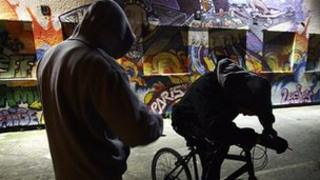 A government scheme aimed at turning around the lives of the most troubled families in England is said to have produced "life-changing" results.
Early intervention by a dedicated case worker has reduced crime among those people involved by 45%, says the head of the troubled families programme, Louise Casey.
Anti-social behaviour has gone down by 59%, her latest report suggests.
But the Social Research Unit charity said the programme was not a "panacea".
The scheme aims to help 120,000 of the most troubled families by 2015.
It was announced a year ago, with central government funding of about £500m, and a further 60% of funding from councils.
Ms Casey published her report on Saturday, saying that cases of truancy, exclusion or bad behaviour at school were also cut by 52%.
She said that a case worker dedicated to the family was one of the key features identified as making the scheme effective.
Ms Casey told BBC Radio Five Live: "(We need) one worker for one family so they actually know who they're working with and what actually needs to change in that family.
"A worker that's honest and direct with them, so it's not faffing around. It's saying: right, kids do actually do have to go to school, I will be there at 7.30 until you get your kids up on you own and get them to school.
"[It's about] showing people that have got terrible backgrounds themselves of care and abuse, who have had no love and no proper parenting themselves.
"[It's about] teaching them to be parents and helping them bring their kids up properly," she added.
'Persistent challenge'
Considering the family as a whole, giving "practical 'hands on' support" and taking an "assertive" approach were also key.
So-called training academies for local authorities will be organised by the Department for Communities and Local Government next year, where best practice for intervention will be taught.
More than 40,000 families are expected to be helped in this financial year.
Communities Secretary Eric Pickles said the report was a "crucial step towards building a wide campaign of support behind the work we are doing to break an inter-generational cycle of misery and failure".
But Sonia Sodha, from the Social Research Unit charity, said: "Any investment in families with multiple issues is to be welcomed, but we would urge a bit more caution on this.
"The government seems to see it as a panacea policy for troubled families. We think that it's positive but we don't necessarily think that it's a panacea."
Anne Longfield OBE, chief executive of the group 4Children which runs Sure Start children's centres , said: "Troubled families need to receive co-ordinated practical support, assistance and advice from services in order to help them solve their problems and get their lives back on track.
"By helping parents to find employment and get their children back into school, the impact will also be felt by wider society."
Dame Clare Tickell, chief executive of charity Action for Children which helps vulnerable young people, meanwhile, urged local councils to avoid providing support for families "on the cheap".
"You get out what you put in," she told the BBC News channel.
"We, and a number of other organisations, provide very high quality support and it really does make a difference," she said.
"It avoids children being taken into care and families spiralling into something that really is avoidable."