Analysis: Is Maria Miller's future in doubt over her expenses?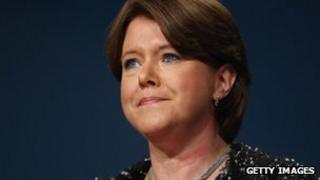 Is Maria Miller in trouble?
A 2009 report by the Standards Commissioner John Lyon into a Labour MP who also claimed for a second home shared with his parents makes unhappy reading for her team.
The rules meant MPs had to avoid any arrangement that might lead to an accusation that someone close to them could benefit from public money.
Examining allegations about the one-time Labour minister Tony McNulty, Mr Lyon concluded: "Mr McNulty and his parents obtained a benefit from parliamentary funds to which he was not entitled, and he left himself open to this complaint being made."
Mr McNulty argued his parents helped keep the house secure, that he did not claim all he might have done and that he was told his situation was "perfectly permissible" by the Parliamentary authorities.
It did him little good.
He had to apologise to the House of Commons and repay almost £14,000. He lost his seat at the next election.
We know much less about Mrs Miller's case.
She too says her circumstances were approved by the authorities.
She points out her expenses were audited along with other MPs' by a review in 2010 and a Conservative party review.
Now, she helps care for her parents.
When they moved in with her in 1996 they helped look after her children as she tried to get her political career off the ground.
Now she is in the cabinet - one of only four female members - those arrangements pose a threat to her future.
The expenses system has been reformed since the claims were made.
But her supporters may argue that any penalty for Mrs Miller will send a discouraging message to those who hope to combine caring responsibilities with a life in politics.