Extent of housing development 'not worrying', says planning minister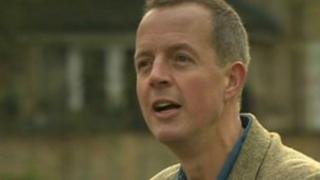 The amount of built-upon land in England is "not worryingly high", Planning Minister Nick Boles has said.
In a committee hearing, Mr Boles was asked about his recent remarks on BBC Newsnight, when he said building on another 2-3% of the land in England would "solve the housing problem".
He said he had been "making an argument about how little developed this country actually is".
There was scope to build on "land that nobody cares about", he added.
As he appeared before the Communities and Local Government Committee, Mr Boles was called upon by committee member and Conservative MP John Stevenson to provide "evidence" to justify his position.
Mr Boles replied that he had been trying to draw attention to "how little land would be required to completely solve, for the foreseeable future, any housing need at all".
Even south-east England, he argued, was "not heavily developed".
'Hallelujah'
"That doesn't accord with our experience because most of the way we see the countryside is driving, and needless to say settlements are close to roads," he explained.
In fact, there was "plenty of brownfield land, empty homes and sites on scrubby land that nobody cares about" on which to build new houses, he said.
But he emphasised that it was not coalition policy to set "any kind of target, plan or expectation of what would happen, or might happen or needs to happen over the next 10, 20 or 30 years".
He also argued that criticism of the figures he had produced in the Newsnight programme was baseless.
Thanks to "without question the most accurate survey of development in this country", it was beyond doubt that 8.9% of England was developed, he suggested.
"That means - thank God, hallelujah, and I'm grateful for the fact - that 91% of England is countryside."
He asked the committee: "Isn't that fantastic? Doesn't that mean we shouldn't be too worried about meeting our housing challenge?"