Coalition plans for mutuals 'have no legs'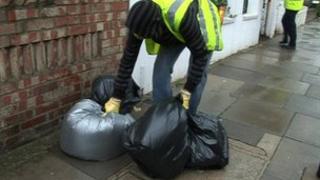 Coalition plans to deliver local services using more co-operatives have "no legs" without further Whitehall support, a group of MPs have warned.
The Communities select committee said government departments needed to work together if mutuals were to "flourish".
The coalition runs a £10m project to support those wanting to run public services through staff-led mutuals.
But the MPs said they had found "far less change than might be expected" at the local level.
In 2011, the Cabinet Office set up a programme to help expand the number of mutuals delivering services in the public sector such as adult and children's social care, social work and probation.
'Absence of rigour'
The government thinks staff-led organisations can increase innovation, increase productivity and give better customer satisfaction.
But the Communities and Local Government Committee found the Cabinet Office programme was "isolated" from similar work being carried out by the Department for Communities and Local Government (DCLG) in local services.
Failure to link this work "betrays an absence of rigour, enthusiasm and understanding that is essential if the mutual model for local service delivery is ever to take off," the MPs said.
The committee concluded the government need to put more effort into providing advice and guidance to those wanting to set up a mutual.
There should also be more coordinated leadership between the Cabinet Office, DCLG and the Local Government Association and banks need to be better educated on lending to mutuals and co-operatives.
Clive Betts, chair of the cross-party committee, said: "The prevailing winds may favour mutual and co-operative approaches to delivering local services, but we found far less change that might be expected across local government.
Real enthusiasm
"This lack of progress was surprising given the benefits claimed for mutuals and co-operative structures which offer employees, and in many cases service users too, a say in how an organisation is run and how services are adapted to suit local needs leading to greater customer satisfaction, innovation, lower production costs, higher productivity, increased resilience and job creation.
"The Cabinet Office programme to promote the use of employee-owned mutuals across the public sector remains isolated from work by the Department for Communities and Local Government, through its localism reforms, to stimulate opportunities for co-operatives and mutuals to take over local services."
But a spokesman for the Cabinet Office argued that the DCLG and the Cabinet Office were "working together closely to support the creation of new employee-owned bodies - such as co-ops and mutuals - to run local services".
The number of mutuals was "growing rapidly, increasing six-fold since 2010", he added. "There's real enthusiasm in local authorities: just last week representatives from 25 councils across the south east got together to discuss the benefits of mutuals with experts in the field."
The spokesman concluded: "We will look closely at how the committee's recommendations can help us to take this agenda forward."