Attack on Tories over income tax a mistake, say Lib Dems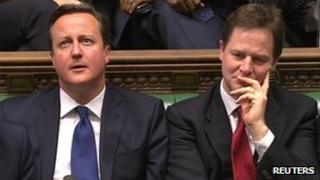 The Liberal Democrats have admitted making an error in sending out a press briefing criticising Tory tax policy.
The document, given out after Chancellor George Osborne's Autumn Statement, said the Conservatives only supported tax cuts "for the very rich".
But a source close to Lib Dem leader Nick Clegg said later that an "old" media briefing had been passed on to reporters by mistake.
The Conservatives "fully embraced tax cuts for low earners", they added.
In his Autumn Statement, Mr Osborne increased the salary threshold at which people start paying tax by another £235, to £9,440, increasing take-home pay for thousands of low-income households.
But a briefing sent out by the Lib Dems attempted to portray the issue as a battle of wills within the coalition.
'Blocked'
It said: "Liberal Democrats are working for a stronger economy and a fairer society, so that everyone can get on in life.
"That's why we have pulled out the stops for normal working people, increasing the tax-free allowance further from April next year. That means Liberal Democrats will have cut your taxes by £600 a year.
"We know that times are tough. To make life a little easier we are cutting income tax and putting more money back in the pockets of struggling families."
The statement went on to criticise the Lib Dems' allies in government, saying: "The only tax cuts the Conservatives support are ones for the very rich. At the general election, their priority was to cut inheritance tax for millionaires.
"In the coalition, Liberal Democrats have blocked these plans and instead we are cutting taxes for millions."
However, a source close to Mr Clegg, the deputy prime minister, told the BBC: "This must be a line from an old briefing that ended up in there."
"The Tories have fully embraced tax cuts for lower earners," they added.
A senior Liberal Democrat source described the Autumn Statement as a "good package" of measures in which the coalition had made "tough but fair" decisions.
They said the rise in the income tax threshold would take 2.2 million people out of the tax system and mean a £600 tax cut for more than 20 million people.
The source added: "This is a our flagship policy, from page one in our manifesto, straight into people's pockets and we are incredibly proud of it."
The chancellor also decided not to bring in a 3p-a-litre rise in fuel duty scheduled for next January.
The Lib Dem source denied that this had been a specifically Conservative demand, adding: "It's a massive issue. Just ask Lib Dem MPs what dominates their mailbags and fuel is right up there."