MPs back boxing to 'turn round young people'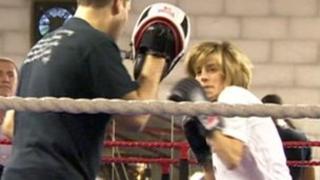 A cross-party group of MPs has backed grassroots boxing as a way of turning around the lives of young people.
On a visit to Parliament's closest boxing club, Fitzroy Lodge, Charlotte Leslie, who chairs the parliamentary group on boxing, said the social impact of boxing was "incredible".
The Conservative MP said the sport had helped her deal with her own teenage aggression.
The MPs said boxing clubs played an important role in local communities.
During the visit, the MPs took part in boxing training with members of the amateur boxing club - where David Haye was made into a boxing star.
'Very angry young person'
MPs taking part included local Labour MP Kate Hoey, Welsh Conservative David TC Davies, John Cryer who represents Leyton and Wanstead in London, and Bracknell MP Phillip Lee.
Ms Leslie said it was important to get "MPs out of the Westminster bubble and into reality".
She said she had first-hand experience of the difference boxing could make in "turning around lives".
"I was a very angry young person when I was a teenager and although I swam for four hours a day that didn't quite get the aggression out of my system.
"Boxing got out all that aggression and enabled me to learn all sorts of discipline, boundaries and anger management. Who knows where I'd be if I wasn't doing boxing at that point."
She credited boxing with giving young people "a sense of identity, male role models and structure" and helping them avoid falling into "gangs, substance abuse, alcohol abuse, violence, young offending and prison".
This "sense of identity" had meant members of the boxing club had stayed away from the riots seen in London in August last year, she added.
'Surrogate family'
The Conservative MP dismissed concerns about boxing teaching children to punch other children.
"Have a look at the real world. They know how to punch already.
"What they don't have is a sense of self-esteem, self-respect, discipline and the ability to walk away from a fight," she said.
In addition to providing boxing training, Fitzroy Lodge runs projects to help young offenders, gang members and those with substance abuse problems, but it is facing difficulty raising funding to continue its work.
Kate Hoey, whose Vauxhall constituency includes Fitzroy Lodge, said amateur boxing clubs could play a "hugely important role" in local communities and MPs needed to be aware of the role of grassroots boxing.
"It is like a family and for many youngsters who don't have family time, the boxing club becomes a surrogate family," she said.
"Sometimes boxing gets a bad name and I think it's really important that MPs are showing that they think it's a sport really worthy if support."