UK government warns Israel over settlements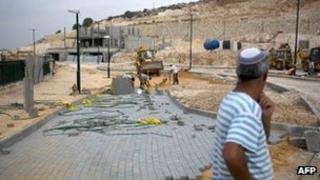 The UK has warned Israel that its plan to expand settlement building in the occupied Palestinian territories "threatens the viability" of peace.
Daniel Taub, ambassador to London, was summoned to talks with Foreign Office minister Alistair Burt.
This followed Israel authorising 3,000 more housing units the day after the United Nations voted to upgrade Palestinian status.
Mr Burt said the government felt "disappointment" at Israel's action.
Two decades of on-off negotiations between Israel and the Palestinian Authority have failed to produce a permanent settlement.
'Strategic interests'
Many countries, including the UK, argue that having two separate Israeli and Palestinian states - the "two-state solution" - is needed to ensure peace in the region.
The UK abstained in Friday's UN vote on upgrading Palestinian status, but the organisation's General Assembly backed the move by 138 votes to nine. This allows the Palestinians to take part in assembly debates, but it does not confer full UN member status.
Israel announced its building plans for the "E1" area between East Jerusalem and the West Bank a day after the UN's decision.
Prime Minister Benjamin Netanyahu dismissed international criticism of Israel's settlement plans, saying: "We will carry on building in Jerusalem and in all the places that are on the map of Israel's strategic interests."
However, following his meeting with the ambassador, Mr Burt said: "Mr Taub was summoned following the Israeli decisions to build 3,000 new housing units in East Jerusalem and the West Bank, to unfreeze planning in the area known as E1 and to withhold tax revenue from the Palestinian Authority.
"I set out the depth of the UK's concern about these decisions and I called on the Israeli government to reverse them. The settlements plan in particular has the potential to alter the situation on the ground on a scale that threatens the viability of a two-state solution.
"I also made clear that the strength of our reaction stems from our disappointment that the Israeli Government has not heeded the calls that we and others had made for Israel to avoid reacting to the UN General Assembly resolution in a way that undermines the Palestinian Authority or a return to talks."
The Foreign Office earlier dismissed speculation that the UK's ambassador in Tel Aviv could be withdrawn.
Meanwhile, the Israeli envoy to Paris was also summoned to a meeting.
The BBC's Peter Biles says the UK is coordinating closely with France in sending clear warning signals to Israel, but he says a suggestion in the Israeli press that Britain and France may recall their ambassadors in protest seems unlikely at this stage.