Will councils benefit from allowing staff to use their own laptops at work?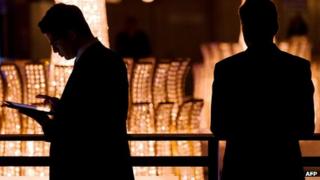 Most people are well-acquainted with the concept of BYOB (bring your own bottle).
But could the acronym BYOD (bring you own device) be about to revolutionise the way councils and other public bodies operate?
One in five local authorities in England are reported to be looking at the idea of allowing their staff to use their own mobile phones, laptops and other devices at work while IT managers say the concept has risen up their agenda with "astonishing speed".
Steve Halliday, head of information communications technology at Solihull Metropolitan Borough Council, suggests it is a natural step.
"You would not expect your company to provide your own suits or shoes and the company car has become much less prevalent than it used to be," he says.
"Your personal device is quite intimate and people will choose and want to use the devices they want."
'Pleasant experience'
In the past six months, he says 12% of his staff have shifted to using their own devices at work - as well as 9% doing the same from home - and he expects this number to rise.
As well as giving staff a "richer experience", he says it has led to quicker and more efficient decision-making, citing the council's ability to co-ordinate its response to the recent floods in the west Midlands.
The process is being driven by staff - some of whom want to use "the squeaky toys they got for Christmas" at work and others who are fed up having to go through the log-in protocol of office computers or simply want to be less tied to their desks.
"Nobody is being forced to do so," he adds. "But I think it is a more pleasant experience being able to use the device you want rather than whatever the council can afford to buy you."
This is not a purely money-saving exercise, he insists, although it is clearly less expensive than other options.
The council will not pay for staff to buy the device of their dreams - but it is considering how those who use their own technology to the benefit of the council and taxpayers can be rewarded.
Surrey County Council and the Essex Online Partnership - a consortium of county and districts councils - are among the other public sector organisations pioneering the use of BYOD.
In a recent report, the body which represents IT managers in the public and voluntary sectors - Socitm - set out some of the potential benefits and pitfalls involved.
It warns that councils wanting to buy devices and lease them - or offer allowances to staff to buy them - face potential tax liabilities.
Organisations also need to consider how they can support multiple software platforms and deal separately with corporate and personal information in the inevitable event of devices being lost.
As for security, it acknowledges the "obvious" risk of running business and personal applications side-by-side and urges councils to upgrade their "conditions of acceptable use" policies for employees.
'Reduced risk'
It also points out that staff must be protected if devices are infected or hacked into while being used for work and thought must be given to contingency plans when employees change jobs.
It advises that initially limiting BYOD usage to smart phones and tablet devices would "minimise complexity" as allowing staff to use their own laptops at work would involve more controls that could make the move "unattractive" to people and limit its usefulness.
The tendency for big companies and public bodies to lose memory sticks and computer disks with sensitive personal information on has been a regular sources of embarrassment in recent years.
Solihull Council says the system it is using operates a "secure container" to separate business and personal mobile application data. The files on which business data are stored are encrypted and password protected.
While acknowledging that no system is risk-free, Mr Halliday maintains "the risk is as reduced as it is possible to be and the benefit and the flexibility is huge."
Andy Jacques, general manager of Good Technology, which makes "secure containers", says they can cut down on the time employees spend downloading data on to their own phones, tablets or laptops as well as preventing leaks of sensitive data.
The "containers" are also designed to prevent data being lost by careless workers.
"If your Iphone gets left in the back of a taxi, the IT department can remotely wipe data that may be sitting in the phone without touching personal photos and other information," he says.
Adrian Hancock, Socitm's chief executive and formerly of Stockton-on-Tees Borough Council, says BYOD is "fashionable" but organisations need to consider the merits to their operations, thoroughly test the benefits and "proceed with caution".
"You should not drive a business case for this simply because people want to without much more serious analysis," he says. "Is it true that people want to? If so, why and why and have they thought through the implications."