Payday loan rates 'to be limited'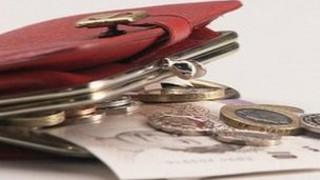 The government is to change the law to allow restrictions to be imposed on the interest rates charged for so-called "payday loans".
Ministers are to amend the Financial Services Bill to give the planned Financial Conduct Authority the power to limit charges.
The news follows concerns over annual interest rates of up to 4,000%.
The government faced a possible House of Lords defeat on an amendment put down by a Labour peer over the issue.
BBC political correspondent Norman Smith said it was being suggested that there should not be a blanket cap on interest rates but the Financial Conduct Authority (FCA) would be able to investigate different loan schemes and then set a limit on the amount of APR charged.
'Usury'
Labour peer Lord Mitchell put down the amendment to the bill, which was also signed by Justin Welby, the incoming Archbishop of Canterbury.
Bishop Welby called the most costly loans "usury", saying that curbing them was a "moral" issue.
There are concerns that small loans, intended to be short-term, have become prohibitively expensive, and in some cases ruinous, if not rapidly repaid.
The government has now agreed instead to introduce its own amendment to the bill next Wednesday.
Treasury minister Lord Sassoon told peers: "We need to ensure that the Financial Conduct Authority grasps the nettle when it comes to payday lending and has specific powers to impose a cap on the cost of credit and ensure that the loan cannot be rolled over indefinitely should it decide, having considered the evidence, that this is the right solution."
Sources insist it is not a U-turn and that the Financial Services Bill would already have given the FCA some powers to cap payday loans.
Peers have been told that some loans involve interest rates running into thousands of per cent.
Lord Mitchell told peers:" This is an industry run by cowboys on the fringes of legality."
Reacting to the concession, Lord Mitchell praised the minister's "very welcome statement of intent".
He said: "This issue is now where it should be - beyond party politics."
Lord Mitchell added that the change would help "those who live in the hell-hole of grinding debt. Their lives will become just a little easier.
"The losers are clearly the loan sharks and the payday lending companies. They have tried every trick in the book to keep this legislation from being approved and they have failed. Their failure is our victory."
But an official study in 2010 said payday loans provided a legitimate, useful, service that helped cover a gap in the market.