'Slagging off parliaments is a national sport throughout the world'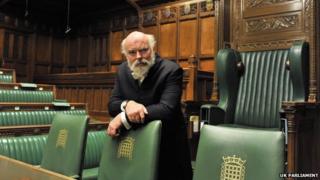 From Callaghan's fall to Blair's Iraq war vote, Robert Rogers has had a front row seat at some of Britain's most dramatic moments. He's now looking to modernise Parliament.
"It was a very, very bad year."
That is how Clerk of the House Robert Rogers describes 2009, the year of the expenses scandal when MPs and the ancient institution that houses them faced a crisis in public confidence.
For weeks, claims for things like duck houses, moat cleaning, dog food and horse manure tumbled out of the pages of the Daily Telegraph, which published the details from leaked documents.
It claimed the careers of a number of MPs and ministers, sent several parliamentarians to jail, forced Speaker Michael Martin to resign and damaged public confidence in politicians and the institution of Parliament in which they sit.
'Parliaments always under-appreciated'
A veteran of 40 years working in Parliament, Mr Rogers says: "For those of us who'd spent our careers explaining Parliament and trying to get people to understand its worth it was a very sad time."
Mr Rogers, who took up the role of clerk and chief executive of the House of Commons in 2011, is well aware of the difficulties Parliament faces in getting people to understand and appreciate it, something not easy in the current climate.
"Parliaments are always, whether it's this parliament or parliaments elsewhere in the world, under-appreciated.
"Slagging off parliament is a national sport throughout the world. It always has been."
But Parliament is fighting back to tackle negative perceptions.
The MPs expenses scandal has "redoubled our determination and our efforts", Mr Rogers says.
For the second year in a row, both Houses were recently involved in Parliament Week - an intense week of events both in Westminster and around the country aimed at raising awareness and getting people engaged with their democracy.
And, for the clerk, the influx of new MPs after the last election represented an "iconic change" and a move away from the "discredited" past.
"It is a different sort of place and it has a different feel," he insists.
"In 2010 we took in 227 new members. They all knew what they were getting themselves into.
"They were an intake of remarkable ability and a huge number of very able committed people who wanted to turn us around. I think that represented a sea-change.
"It helped hugely in saying 'This is new. This is not the discredited 2005 parliament'."
He admits that the recent resignation of disgraced MP Denis MacShane, after he was found to have falsified invoices to claim expenses, means the past scandal can still rear its ugly head, but he dismisses it as a "legacy issue".
The offences took place between 2004 and 2008, before the new expenses regime and a new independent statutory body governing what MPs can claim for came into force.
So is there any reason to think Parliament has really changed?
"The way it is different can be measured in all sorts of ways," the clerk argues.
"I think the Speaker's readiness to have many more urgent questions on the floor of the House means that what is on the Today programme will actually be part of the House of Commons agenda.
"People can see it's not some fusty organisation that might get round to talking about something in three weeks' time."
'Not fusty'
He cites a day when MPs got the announcement of the new governor of the Bank of England, a report back from the prime minister on his meeting on the EU budget and the environment secretary talking about the floods as evidence of the House of Commons taking centre stage.
"Parliament has become a lot more aware of and responsive to outside pressures," he adds.
A new system giving MPs the chance to get their own debates in the chamber through the backbench business committee and e-petitions, where public petitions with more than 100,000 signatures can result in a Commons debate, have both contributed to shaking up the way the Commons works.
The clerk dismisses suggestions of a "golden age when everybody was alleged to make up their own mind", insisting Parliament was actually now "much more contrarian", with more MPs rebelling against the party line than ever before.
And smaller changes, like allowing tablet computers and other mobile devices into the Commons - something the self-confessed "iPad fanatic" is very pleased about - show the place is modernising.
'Rough and tumble'
But it's not all out with the old and in with the new. How could it be in a building so steeped in history and tradition?
"I'm a great believer in history-as-our-inspiration, not our jailor," says the clerk.
"And as long as we are in this building the new is going to have to live with the old."
The common complaint about the sometimes arcane way in which Parliament functions, with its wigged clerks, daily processions and formal rules on language, does not cut much ice.
It is a "dignified framework" of rules and tradition that provides "a safe space for the rough and tumble of politics" and that is no bad thing, says Mr Rogers.
But the lack of diversity and "outrageous" lack of female MPs is something he does feel strongly about.
More than 75% of MPs are male, there are fewer MPs from ethnic minorities than is representative of the rest of the population and only a small number of MPs are disabled.
"You've got to show yourself the kind of institution you would like to be," he stresses.
"You've got to walk the walk if you're going to talk the talk."
Although he has no control over who gets to be an MP, he can do something about making the 2,000 strong House of Commons staff he is in charge of more diverse.
Upon becoming Clerk of the House, Mr Rogers immediately appointed himself "diversity champion" and he wants to use is time in the job to get more people working for Parliament who would never have considered it.
"I may wear 18th century clothes, but that doesn't mean I've got an 18th century mind," he jokes.