Boost exports, business leaders urge the chancellor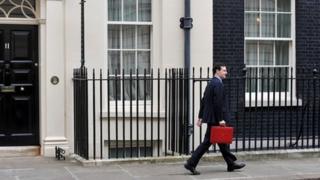 So will the chancellor give our economy a pre-Christmas shot in the arm in his mini-budget?
George Osborne's already been lobbied by business leaders from the East Midlands: they want measures to stimulate economic growth and exports.
In the 10 years up to 2008, the East Midlands lost 125,000 manufacturing jobs. Yet manufacturing still accounts for 16% of our economy. The national average is only 10%.
And at 13.7%, the East Midlands has the highest proportion of workers in the production sector of any region in England.
"We want the chancellor to help our businesses by helping them to buy expertise in developing exports and breaking into new markets," said George Cowcher, chairman of the Derbyshire and Nottinghamshire Chamber of Commerce.
Medium-sized firms
So are there signs the East Midlands economy may be powering up again?
Unemployment has fallen in the East Midlands over the whole year; in November, it saw one of the biggest falls in Britain.
"We can smile at that one," Mr Cowcher told me.
"We've seen companies take on additional workers. We have strong manufacturers producing really strong products and our exports are holding up too."
The success isn't purely down to big-name East Midlands companies such as Rolls Royce, Toyota and train makers Bombardier.
The region's resilience from the impact of the double-dip recession depends heavily on medium-sized firms like Hoval Ltd of Newark in Nottinghamshire.
It makes boilers and energy saving heat recovery units.
With an £18m turnover and 130 staff, Hoval's been going for 125 years and has survived earlier economic recessions. Now it has renewed ambitions to grow.
"Our message to the chancellor is to give us confidence that the growth aspirations of government match ours," said Adrian Walker, the firm's managing director.
"We are looking for investment in energy efficiency schemes. But business is still hard to come by and I feel we are still - as a region - bumping along the bottom a bit."
The East Midlands - according to the CBI - has lower than average levels of public sector employment, at 19%.
So it's less vulnerable than most regions to continuing public service cuts. Up to the end of last year, the public sector shrank by 3.3% - that was the smallest public sector hit taken by any English region.
'Hard-pressed retailers'
Another key barometer of the state of the region's economy is on the high street. Are consumers about to start spending again, especially after Christmas?
"We want a cap on business rates at two per cent," Lucy Haines, the CBI's director for the East Midlands, told me.
"That would help all businesses, especially hard-pressed retailers.
"Also an extension of the annual investment allowance to £50,000. That would help small and medium sized companies," she added.
"And there needs to be more funding for local authorities to press ahead with maintenance work, such as repairs to roads. It all helps."
The chancellor's already hinted that he's ready to use government money to give a lift to manufacturers.
Whatever measures he announces in the pre-Christmas mini-budget, his statement will matter for the manufacturers of the East Midlands. It may bring them - and the jobs market - some much needed seasonal cheer.