By-elections, safe seats and the rain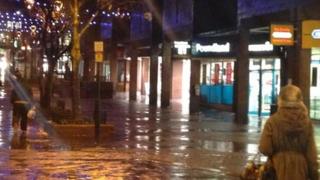 It was a beautifully simple plan - breakfast in Croydon North, lunch in Rotherham and dinner in Middlesbrough. Thursday's three by-election venues in one day. A snapshot of the political mood of the nation. What could possibly go wrong?
It was somewhere between Retford and Doncaster when it began to dawn on me that this was not going to work. The train had been standing still for about 20 minutes.
The guard was moving through the carriages telling people the hold-up was due to flooding on the line ahead.
They were probably just being cautious. It wasn't even raining very hard. How bad was this flooding exactly?
"They're sending divers down to check the points."
Oh.
The day had started promisingly enough with a trip to Croydon North, fighting against the tide of commuters heading into central London, as the sun poked gingerly through the rain clouds.
Labour are defending a 16,000 majority here, in a contest triggered by the untimely death of former energy minister Malcolm Wicks.
The safest of the three safe Labour seats going to the polls on Thursday, it would take a political earthquake of some magnitude for the party to lose.
But it has turned out to be an intriguing contest.
Lee Jasper, Ken Livingstone's former right-hand man, has reportedly made an impact at hustings as the Respect candidate, and his odds of springing a Bradford West-style upset were slashed at the bookmakers after he was joined on the campaign trail by George Galloway.
The Conservative candidate, Andy Stranack, who has cerebral palsy, gave up his career to be a community activist on a tough estate and is making the most of his local credentials, in an area which despite its somewhat anonymous appearance, has a strong sense of community.
"I will be really surprised if Labour don't have their majority slashed, because you have got some good candidates," says Richard Hough, a local garage owner and Tory activist.
Mr Hough kept up an entertaining commentary on the merits of the different contenders, in between fielding work calls on his mobile ("Ello Geez, what time are you going to be there?").
Labour candidate Stephen Reed, leader of neighbouring Lambeth Council, gained national coverage for his attempts to involve local people in the running of services and is talked of in some circles as frontbench material.
"A career politician," reckons Mr Hough, "too slick".
Jamie Oliver
But Anthony Shortt, owner of the nearby Clocktower cafe, was impressed by the Labour man, who took the time to chat to him about how his business was going: "He was well-dressed, well-presented."
UKIP is also a noisy presence in this South London constituency, which is home to Crystal Palace football club.
The party's advertising van was touring the streets on Monday morning, but its traditional megaphone and rosette approach to campaigning was cutting no ice with Brenda Coop, treasurer of a local church.
"I'm planning to vote Lib Dem, because of their policies on Europe. I certainly won't be voting UKIP."
On my way back to Norwood Junction station I bumped into Gerard Batten, UKIP MEP for London.
Shouldn't he be in Rotherham?
Mr Batten's party leader, Nigel Farage, has ordered all hands to the South Yorkshire constituency, to capitalise on the media storm over a local couple who have had their foster children removed by the Labour council because they are UKIP members. The party senses an opportunity to make a long awaited breakthrough into the House of Commons.
"I would be in Rotherham if it wasn't for the fact that I represent a London constituency. I'm here to support Winston Mackenzie, our candidate," says Mr Batten.
My own arrival in Rotherham, three hours later than planned and with no hope of completing my by-election odyssey after all trains heading north from Doncaster are cancelled, is accompanied by torrential rain and a gathering gloom.
Jamie Oliver famously harangued Rotherham into eating more healthily - his Ministry of Food project still has a presence in the town's shopping precinct.
And when I pitch up at UKIP's rather cramped campaign headquarters, I find two other reality TV stars holding court.
Neil and Christine Hamilton have been UKIP members for 10 years, they tell me.
Mr Hamilton, a former Tory MP who was forced out of politics over his role in the cash-for-questions affair, is on UKIP's national executive committee.
"Everyone is gobsmacked by this dreadful foster case and the awful way in which these people have been treated," he says.
"And that, I am sure, has generated a huge groundswell of support for us."
The pair have been knocking on doors in Rotherham all day.
"I'm A Celebrity" alumnus Christine, struggling to make her voice heard over the music blaring from the Respect battle bus, which has been driving up and down outside the UKIP office all day, says the party is being flooded with messages of support.
Party of choice
But there was little sense, from chatting to voters in Rotherham's indoor market, that the adoption story has gripped the town in quite the way the Hamiltons claim.
Jobs appear to be the main concern after a wave redundancies at the Tata steel plant.
And Labour appears to remain the party of choice - despite real anger at the behaviour of former MP Denis MacShane, whose expenses-related departure triggered this contest.
"Don't mention his name to me," said one retired steel worker. "You won't be able to print what I think of him."
He still planned to vote Labour though - the attitude seems to be that all MPs were at it and Mr MacShane was just unlucky to get caught.
"If I had known what he was up to I would have charged him more for his meat," joked one stallholder.
'Marginal' contest
With no prospect of making it to Middlesbrough much before midnight I bed down for the night with friends who live near Doncaster.
I finally made it there on Tuesday lunchtime, as train services steadily return to normal.
With a Labour majority of 8,000, Middlesbrough is the most "marginal" of the three contests but, judging from the few hours I spent trying to drum up some interest in the town centre, the least likely to produce any kind of upset.
The contest was triggered by the death of Sir Stuart Bell, who came in for some flak in his later years for not working hard enough as an MP, something he always vehemently denied.
His former constituents have no shortage of problems, with crime and unemployment probably topping the list, and some believe the area has been disproportionately hit by government cutbacks.
But by-election fever is in very short supply.
"I haven't really thought about it," says Anthony Newton, who runs a small business selling computer spares.
"I will probably vote Labour. More out of habit than anything else - the best of a bad lot."
David Emmerson, who works at Middlesbrough College, is giving it some serious thought because he likes his vote "to be able to count" and he is hoping to meet some of the candidates face-to-face before making up his mind.
But he adds: "They might as well just give the job to the Labour candidate. They always get in here."
The one Tory voter I found said he was staying at home on Thursday in protest at what he saw as the lack of a proper information campaign for the recent Police and Crime Commissioner elections.
A young woman who voted for David Cameron at the general election "because my mum and dad told me to" says she can't be bothered to go to the polling station this time.
Covering by-elections in safe seats can be a dispiriting experience. The vast majority of people you speak to are simply not interested, or openly hostile.
"I don't trust any of them," said one man in Croydon North. It was a common view.
But if my trip has taught me anything, it is that traditional campaigning is the only thing that matters - a leaflet or a knock on the door from the candidate can still break down the wall of apathy and indifference, most of the time.
Although the real lesson is that I really ought to take Met Office storm warnings more seriously...