Nadine Dorries still under sword of Damocles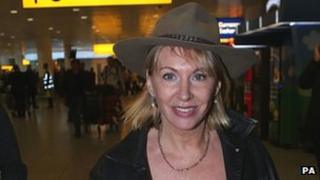 Nadine Dorries is "on probation", I am told by Conservative sources.
She met Chief Whip Sir George Young and she remains suspended from the Conservative parliamentary party. She says it was a very good-natured, very happy meeting. The whips say Sir George was quietly firm.
Ms Dorries says she is confident of reclaiming the whip but Sir George made clear that her future depends on two things:
1. The scale of her contrition - once she has had the time to talk to her local party, her constituents and fellow MPs and realise quite how angry some people are at what she has done. I am told that the views of her local association and how much they are seen to support her will be significant in any decision about her future.
2. Her future behaviour - such as her attendance, her voting record and her attempts to build bridges among colleagues. Many Conservative MPs whose lives are dominated by the whips office have taken a dim view of Ms Dorries' antipodean adventure. They will not be happy if she is seen to get soft treatment while they loyally continue to do the whips' bidding.
The whips point out that the lack of any immediate decision to withdraw the whip permanently should not be seen as getting Ms Dorries out of her predicament.
They are evoking the fate of the former Conservative MP, Howard Flight. He was forced to resign as a deputy chairman of the party in 2005 when he said that the Tories would cut spending more than they were promising in their election campaign. Such was the furore that Mr Flight - now Lord Flight - was also stripped of the whip by the then Conservative leader Michael Howard.
The crucial point was that this meant he could not stand as a candidate for the party in his seat in Arundel and South Downs. There was a row about who had the final say in any selection - the local or the national party - but ultimately the Tory members in Arundel gave way and Mr Flight did not stand.
The moral of the story? If Ms Dorries remains suspended from the parliamentary party, she will not be able to stand as a Tory candidate for Mid-Bedfordshire.
In other words, a sword of Damocles is hanging over the head of Ms Dorries. If she keeps her nose clean, she will escape the chop. If not, well, legend has it that the sword is held up by only a single horse hair...