Ministers and officials accused of 'last minute' withdrawal from MPs' hearing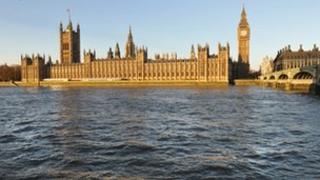 MPs have accused the government of withdrawing "at the last minute" from a committee hearing about the rights of unaccompanied migrant children.
Ministers and officials from the Home Office, Department for Education and Ministry of Justice were due to appear.
Labour MP Hywel Francis said they had given "no reason" for their "unacceptable" absence.
The Home Office said it took the issue being examined "very seriously" and would set up an alternative date.
Parliament's Joint Committee on Human Rights, made up of both MPs and peers, is holding its first public hearing in its inquiry into the human rights of unaccompanied migrant children and young people in the UK.
'Normal practice'
The inquiry, announced in September, is focusing on the experiences of victims of trafficking and those seeking asylum.
The committee had been due to hear from officials from three government departments, but Mr Francis said 24 hours before the committee was due to meet, the Home Office said its officials would not be attending and the other two departments "followed suit".
"The committee finds this very unsatisfactory, indeed unacceptable," he said at the start of proceedings.
"It is normal practice for a committee at the outset of an inquiry to seek evidence from officials who operate within the relevant policy area.
"No reason has been given for the witnesses being withdrawn. The government appears to have decided not to assist the committee in this inquiry at this very important stage.
"This is a regrettable matter which the committee will be taking up with relevant officials as a matter of urgency."
The committee has said it wants to ascertain whether the treatment of unaccompanied migrant children and young people in general is consistent with the UK's obligations under the UN Convention on the Rights of the Child and whether public bodies have sufficient regard for the need to safeguard and promote the welfare of children.
The committee, whose members include Lib Dem deputy leader Simon Hughes, Labour peer and lawyer Baroness Kennedy and Conservative MPs Dominic Raab, continued with its sessions - hearing from UN officials and refugee campaign groups.
In a statement, the Home Office said: "As this is an issue we take very seriously, the immigration minister (Mark Harper) felt he was best placed to give evidence to the committee.
"Unfortunately he was unable to attend this afternoon's session but we are working with the committee to set up an alternative date as soon as possible."