'Lifestyle patients' may have to pay for their drugs in future says MP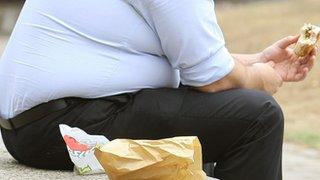 A Conservative MP, who is a practising GP, has suggested those with medical conditions caused by their lifestyle may have to make a contribution to their healthcare costs in the future.
Dr Phillip Lee, the MP for Bracknell, told the Institute for Economic Affairs these conditions were an "increasing burden" for the NHS.
Ministers said the health service must remain free at the point of use.
But people needed to "take control" and "change their behaviour" if necessary.
Dr Lee highlighted the increase in diabetes as a particular cause for concern - with the number of people diagnosed with the condition estimated to rise by 700,000 by the end of the decade and top four million by 2025.
Type 2 diabetes, which accounts for 90% of diabetes cases, can be caused or exacerbated by a unhealthy diet, lack of exercise and being overweight although this is not always the case as some sufferers have a genetic vulnerability.
Dr Lee said some evidence suggested diabetes treatments could account for a quarter of the NHS budget by 2025.
"This clearly isn't a sustainable position," he said in a speech to the right-leaning think tank.
"So I would suggest one way of perhaps trying to move that locus of responsibility for health care from the state to the individual would be in making it that you pay for your drugs at cost, in that way you would be attaching a consequences to lifestyle choice."
Growing demand
Pressures on the NHS could grow, he added, because the "baby boomer" generation now approaching retirement expected more from the health service than their parents, who were "incredibly stoic".
The attitudes of the baby boomers towards pain and suffering, he said, was very different from those of their parents, who had lived through the war.
"When that cohort of people hits their 70s and early 80s, which is going to happen between 2015 and 2030, their demands on the system is going to be immense.
"In view of the fact we have doubled the healthcare spend in the last 10 years, are we suggesting we are going to double it again?"
Deciding on these issues would not be "easy politics", he added.
The Department of Health said the health service had to be able "to meet patients' needs and expectations in the face of growing demand" from the public.
"Decisions on treatments should be made by clinicians taking the needs of each individual into account," a spokeswoman said.
"Ultimately, people need to take control of and change their own behaviour - and the NHS is here to help them. This is why we are committed to a publicly funded NHS free at the point of use."
In a recent report, the Commons Public Accounts Committee said the standard of care for diabetes in England was "depressingly poor", causing unnecessary deaths and disabilities.