I'm a Celebrity: Nadine Dorries 'would do it all again'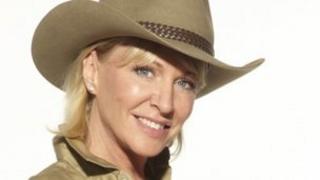 Conservative MP Nadine Dorries has returned to the UK ready to defend her decision to appear on TV reality show I'm a Celebrity... Get Me Out of Here!
Ms Dorries said she had only taken three parliamentary sitting days off.
She said she was "angry with what they've been writing" and insisted that she would "do it all again".
The Mid-Bedfordshire MP, who was suspended from the parliamentary party, will meet Conservative Chief Whip Sir George Young on Tuesday.
She travelled to Australia to take part in the prime-time ITV reality programme while the Commons was sitting. Sir George suspended the party whip from the MP when the decision was announced.
'Panic'
A Downing Street spokesman said it was "not a formality" that she would get the whip back, as she had to "explain her decision to go off to the jungle".
Ms Dorries, the first contestant voted off the show, told BBC Three Counties Radio: "I think when they realised that I was going to speak to an audience of 12 million people, there was a kind of panic took over because I think they thought I was going to go and talk about David Cameron and George Osborne.
"I never was. That's not the reason why I did it. But I think a panic and a reaction set in, which has actually now made me the best known MP in Britain. I don't think that really was what they were trying to achieve."
Announcing her return to the UK on Twitter, Ms Dorries wrote: "Arrived in Heathrow to scores of Paps - has world gone mad? I've HAD ONLY 3 SITTING DAYS AWAY!! REST WAS HALF TERM!"
Speaking to reporters Ms Dorries said she would "do it all again" but said: "I'm angry at what they've been writing in the press."
When asked what she would tell her constituents in Mid Bedfordshire, she replied: "I've only taken three parliamentary days off. What they are angry about is what they have read in the newspapers, which is not the truth."
A source close to Sir George said Ms Dorries had been "very clearly" informed in a letter that she had been suspended pending their meeting.