I'm A Celebrity: Nadine Dorries to meet chief whip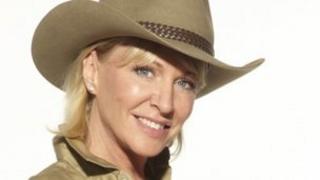 Conservative MP Nadine Dorries is to meet Chief Whip Sir George Young to discuss her role on reality TV show I'm A Celebrity... Get Me Out Of Here!
Downing Street said the meeting to discuss her decision to take part in the show would be held when she returned from Australia.
Ms Dorries was suspended from the Tory party in Parliament after becoming the first sitting MP to appear on the show.
The MP for Mid-Bedfordshire lasted 12 days in the jungle.
The programme is scheduled to end on 1 December.
Ms Dorries is due to remain in a hotel until the end of the series, so that she can be reunited on camera with her fellow participants.
With regards to planned talks with the chief whip, BBC political correspondent Alan Soady said: "You can assume that meeting will decide her future - whether she will stay as a Conservative MP or whether they will take the decision to throw her out of the party."
Ms Dorries has been criticised by some colleagues for abandoning Parliament to take part in the programme.
But, in an interview on BBC Radio 4's Week In Westminster, she suggested her appearance on the show had been a good advert for the Conservatives.
Critics list
She said: "Twice as many people have submitted Google searches for Nadine Dorries as they have done for David Cameron and those Google inquiries have come from areas like Liverpool, Leeds, Manchester and Newcastle - areas that normally don't search the names of Conservative MPs."
She added: "The people who discovered that a Conservative MP may not have been born with a silver spoon in her mouth and gone to a public school, that might just be a first step.
"I haven't claimed that I'm going to completely change the perception of the Conservative Party by 12 days appearing on a reality TV programme.
"But I know what I have done is that all those people who watch that programme and all those people who've searched my name afterwards do know that maybe not everybody, not every MP in the Conservative Party, comes from the background that they may have thought they did."
Ms Dorries revealed she had asked her researchers to compile a list of the MPs who had been critical of her.
She said: "I'll be very interested to discover those MPs who've made comments, how many of them have taken their own little jollies abroad since they became MPs and how often they've taken them.
"Not, of course, that I'll be using that information, and I can also guarantee, it will probably be the sycophants and the Cameroons who've made the comments - those who've been doing Number 10's bidding."
But she added: "It doesn't really bother me. If it did, if I didn't have a thick skin, I wouldn't be a working class female in this environment in Westminster."
On whether she believed she made the right decision to take part in the programme, she said: "I have absolutely no regrets whatsoever."
Constituency complaints
Before appearing on the programme, Ms Dorries said she wanted to use it to raise awareness of issues she was interested in such as reducing the time limit on abortions from 24 weeks to 20 weeks.
The Conservative Party has been concerned about Ms Dorries' inability to do parliamentary and constituency business while she was taking part in the programme.
Budge Wells, deputy chairman of Mid-Beds Conservative Association, said she would be given the chance to put her case to local members when she returned.
But he said he thought her participation in the programme was "unnecessary" and had prompted nearly 100 complaints from constituents.
Ms Dorries said she would donate her MP's salary for the time she was on the show to charity.