New Archbishop backs payday loan amendment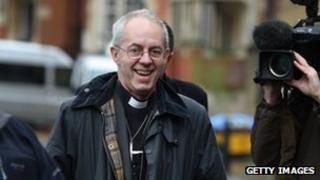 After last week's mauling on the Justice and Security Bill, is the Government cruisin' for another Lords bruisin' on payday loans?
Peers are spending a couple of days next week on the Report Stage of the Financial Services Bill, and a Labour amendment which would cap the interest payable on payday loans has just attracted the signature of the Bishop of Durham and Archbishop of Canterbury-to-be - Justin Welby. Labour clearly regard his support on this as quite a coup.
The Rt Rev Prelate (to lapse into Lords-speak) is both the head-in-waiting of the Church of England, and a member of the powerful Parliamentary Banking Commission, where his put-down to the chancellor, at a hearing this week, about his army of straw men, was relished by observers.
Even before his promotion was announced, he was clearly gathering admirers and influence. Now, Amendment 114d, from the Labour Peer, Parry Mitchell, has been signed both by Bishop Welby (in his current guise as Bishop of Durham) and by the Crossbencher, Lady Howe, an active campaigner on an impressive range of issues - and, between them they may well attract vital crossbench support.
The government has already been defeated on the Financial Services Bill , mostly as a result of Tory no-shows, on a procedural vote. And after the kicking they received last week, some observers are beginning to wonder if the Coalition is beginning to splinter, or at least suffer a midlife-itis, on the red benches of Their Lordships' House.
The ever-helpful Constitution Unit have broken down the voting on last week's three Government Justice and Security defeats in the Lords, and the voting pattern was consistent across all three defeats - 50 plus Crossbenchers and 50 plus Liberal Democrats and 2 or 3 Conservatives, voting against the Government - many more than voted with it. And, incidentally no Bishops voted with the Government in any of the three votes.
The result was substantial majorities against the Government line - 105, 99 and 87.
I don't know if the Financial Services amendments will attract the same level of support - but if Conservative and Lib Dem peers add their signatures to them, then the Government whips will have cause to worry.
Again. Regular defeats in the Lords, on substantial issues, are becoming a constant irritant in the coalition, particularly since a key ingredient in those defeats is almost always the defection of Lib Dem peers.
None of the issues so far have been at the heart of the Government's programme, but the votes do seem to home in on certain faultlines around civil liberties and market regulation.
This makes the inconvenience of defeat all the more annoying for ministers, especially where they have had to persuade MPs to grit their teeth and vote for uncomfortable causes in the Commons, only to see Peers upset the apple cart.