Jeremy Hunt angry at questions over PM's Brooks texts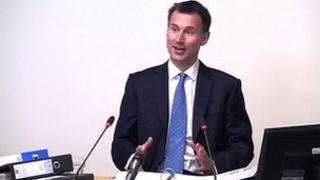 Health Secretary Jeremy Hunt has had an on-air spat with the BBC's Nicky Campbell about texts between David Cameron and Rebekah Brooks.
Mr Hunt, ex-culture secretary, suggested the 5 live presenter was showing "salacious interest".
He asked: "Can you tell me why you feel it's necessary to read out the content of those texts?"
Mr Campbell said he believed there was public interest in relations between a PM and a newspaper editor.
The exchanges came at the end of an interview on BBC Radio 5 live, when Mr Hunt was asked by the presenter about the forthcoming Leveson Inquiry report.
Nicky Campbell said it had been a "rocky ride for the prime minister - I mean all those texts to Rebekah Brooks for thanking her for letting him ride one of the family horses saying it was 'fast, unpredictable, hard to control but fun'... another... She said 'brilliant speech' to the prime minister".
Mr Hunt interrupted to say "with the greatest of respect, I'm not quite sure what you're trying to suggest? He sent texts to someone who was a friend.
"The Leveson Inquiry was about examining whether there was impropriety in the relationship. Are you suggesting that there's impropriety in those texts? Because I think you need to be clear."
After the presenter denied that was his suggestion in reading out the texts between the prime minister and the former tabloid editor and News International chief executive, Mr Hunt asked: "Can you tell me why you feel it's necessary to read out the content of those texts?
"Why did you bring it up? What's your reason? If there's a sort of salacious interest in private texts that a prime minister brings up then I think you as a responsible broadcaster need to tell me why you think it's necessary to read out those texts this morning?"
Leveson report due
Mr Campbell then explained that he had brought them up because the relationship between prime ministers and newspaper editors was in the public interest.
Mr Hunt replied that the texts read out were about thanking someone for letting him use a horse: "I mean what has that got to do with the public interest?"
The presenter then quoted the text from Mrs Brooks to Mr Cameron saying "Brilliant speech. I cried twice. Will love working together" and asked Mr Hunt "what does that mean 'working together'?"
Mr Hunt said: "Well that has been discussed in the Leveson Inquiry but that wasn't what you asked me about. You actually asked me about horse riding."
Mr Campbell that was because he was interrupted during the question he was initially asking and he mentioned the horse riding "because I was putting into context their relationship... and I think when you get a newspaper editor saying 'working together' with a prime minister it is of interest isn't it?"
Mr Hunt replied "Well that's exactly why we have the Leveson Inquiry and we will see exactly what Lord Justice Leveson says, whether he thinks there is significance and whether he thinks changes need to be made."
The Leveson Inquiry into the culture, practice and ethics of the press, is due to publish its report on Thursday.