Eric Pickles warns councils over weekly bin collections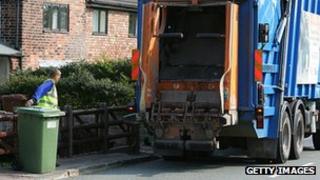 English councils that fail to provide a weekly bin collection could lose some public funding, ministers have warned.
Local Government Secretary Eric Pickles said there was no "plausible reason" why some councils had fortnightly rounds, and residents deserved better.
He promised to "look closely" at the grant funding given to councils.
But the Local Government Association said many people were happy with fortnightly collections and there was "no one-size-fits-all solution".
Many councils have moved away from weekly collections in recent years, arguing that alternate weekly collections for household-and-food waste and recyclable items are more efficient and popular with residents.
Mr Pickles's warning came as the government announced the details of extra funding for councils to help them either reinstate or maintain their weekly service or pursue other waste management projects.
Ministers have named 85 councils which will receive extra resources as part of a £250m scheme first announced in February.
Among the successful bidders, Birmingham Council is to get £29m to introduce a recycling reward scheme among other initiatives while Stoke-on-Trent, Liverpool and Luton councils will get more than £10m each, partly to "support weekly residual waste collections".
Without action, ministers said they feared weekly collections would become a thing of the past by 2015.
'Held to account'
Mr Pickles used the announcement to give a veiled warning to councils - which have a statutory duty to provide an efficient bin service - that do not have weekly collections.
"Weekly bin collections are one of the most visible front-line services and there is no plausible reason why councils should not deliver them to hard-working residents," he said.
Local authorities currently receive £28bn in funding a year - calculated on the basis of the local council tax base and how many people rely on local services - to spend as they wish.
Mr Pickles said it was "not unreasonable" that a decent bin service should be among councils' objectives "in return" for receiving the money.
"We will be looking at the central government funding for bin collections," Mr Pickles added.
"If councils do not get their house in order and deliver this basic public service then not only will they be held to account at the ballot box."
The government admitted last year it could not make councils provide weekly bin collections, after efforts to include the measure in a new waste strategy were watered down.
'Local circumstances'
The Local Government Association said councils in England spent nearly £1.5bn a year on waste collection and recycling, and research earlier this year had suggested 80% of residents were satisfied with their current service.
The lobby group said the variety of different council arrangements the government was funding through its new initiative showed there many different ways to organise collections.
"What matters most to people is that their waste is collected in a reliable, efficient way which allows them to recycle easily," said Mike Jones, chairman of the organisation's Environment Board.
"This can be achieved in different ways, depending on local circumstances.
"For some homes, alternate weekly collections would not be suitable. But many who do have their non-recyclable waste collected fortnightly are happy with the arrangement."
According to the latest figures from the waste reduction consultancy Wrap, 54% of households in England have their bins collected every fortnight, compared with 44% weekly.
Some councils offer both weekly and fortnightly services in different areas.
The figures for fortnightly collection are higher in Scotland (71%), Wales (82%) and Northern Ireland (91%).