I'm a Celebrity: Nadine Dorries 'back working as MP'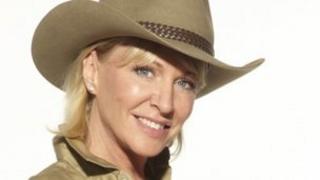 Nadine Dorries says she has set up an office in her Australian hotel room and is working as an MP after leaving I'm a Celebrity... Get Me Out of Here!
The Conservative MP for Mid-Bedfordshire also told ITV1's Daybreak that she had been given permission to be away from Parliament for November.
However she admitted that she had not told the then chief whip Andrew Mitchell why she wanted the month off.
She lasted 12 days in the Australian jungle in the ITV reality programme.
Mr Mitchell's office reportedly released a statement reading: "Andrew Mitchell was neither asked nor did he agree to Nadine Dorries going off to Australia for a month to take part in I'm A Celebrity... Get Me Out of Here."
But Ms Dorries said she found it "disappointing" that he was trying to be "clever with words".
'Powers that be'
Mr Mitchell had asked her "what he could do to keep me happy" because she had been "quite rebellious on... Europe and other issues", she explained, "and I told him that I would like a month away in November, because all of my seven-and-a-half years, I've never taken a day away in parliamentary time".
"He said that was fine.
"I didn't tell him what it was for, because I couldn't, because I was bound to confidentiality, but I did tell him what I was going to do would be quite controversial."
By omitting this detail, Mr Mitchell's statement "epitomises politicians" in the eyes of the public, she suggested.
Her decision to go into the jungle had led to her getting a lot of "flak", Ms Dorries added, but she insisted that she had worked as hard, or harder than many other MPs.
Ms Dorries, who has been openly critical of the prime minister and chancellor, questioned the Conservative Party decision to suspend her as a member of the Parliamentary party.
She said that many other MPs were away for as long, or longer, than her and did not get the party whip suspended.
Her view was that it might have been done as a "cautionary" measure because the "powers that be" feared she might be outspoken about them on the programme.
'Fascinating experience'
Before it began, Ms Dorries said she wanted to use her appearance to raise awareness of issues she is interested in, such as reducing the time limit on abortions from 24 weeks to 20 weeks.
Asked by presenters Ant and Dec after her Wednesday eviction if she felt she had achieved her aim, she said: "I don't know what people have seen but I have had some fascinating conversations in there. It's been a fascinating experience.
"I think it is important that MPs realise that you need to go where the public go. More people vote on X Factor and I'm A Celebrity than they do in the general elections. MPs need to go where people vote."
The Conservative Party has been concerned about Ms Dorries' inability to do parliamentary and constituency business while she was taking part in the programme.
Budge Wells, deputy chairman of the Mid-Beds Conservative Association, told BBC Three Counties Radio that she would be given the chance to put her case to the executive when she returned.
But he said he thought her participation in the programme was "unnecessary" and had prompted nearly 100 complaints from constituents.
She would get a fair hearing and chance to explain why she decided to do it, he said, although the local party would go along with whatever action the Conservative Party chief whip at Westminster - Sir George Young - decided appropriate.
Ms Dorries had said she would donate her MP's salary for the time she was on the show to charity.