Police commissioners cuts warning to Downing Street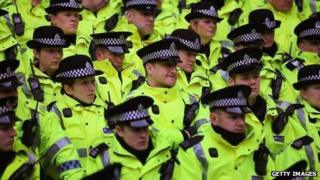 Now it's for real. After two months of speeches, hustings and appeals to the uninterested voters, the new police and crime commissioners are about to take over the reins of power.
In Nottinghamshire, Labour's Paddy Tipping has already fired off an early salvo. His target? The so-called time-servers at the county's police HQ and its police authority staff.
"It's important to get best value for money out of the police," he told the BBC's Sunday Politics East Midlands.
"I think there are other ways of making savings and putting resources to the front line."
So can that be achieved when police forces are facing 20% cuts?
Throughout his election campaign, the former Sherwood MP talked up the need to invest in front-line policing. He'll be looking to reduce back-room staff to release those savings.
And he's not alone. Derbyshire's Labour commissioner Alan Charles is also walking a financial tight rope.
He worries about the chancellor's mini budget next month and the possibility of further Treasury-ordered spending cuts. He also has stressed the need to safeguard community policing.
"So long as there are no more budget cuts handed down from government in December, that's what I'm going to do and maintain those levels," he said.
The new Labour police commissioners in the East Midlands have found some unexpected political allies.
The Tory who won Paddy Tipping's parliamentary seat in 2010 has offered to lobby.
"The East Midlands for the last 20 years has been seriously underfunded," said the Conservative's Mark Spencer.
'Building teams'
"Politicians from all parties need to work together on this. Let's look for efficiencies by doing things better and smarter-working by the police. We need to get coppers from behind the desks and onto the streets," he added.
Leicestershire's Conservative commissioner Sir Clive Loader is no less ambitious for his period of office, but the former RAF Air Chief Marshall has been more cautious in his early comments about funding.
"The background I bring is about building teams," he said.
"I've got a team to build here between myself and the chief constable. That's critical to how the commissioner role works.
"I've got to make sure that the public know that the police are looking after them and responding properly when they become victims of crime."
The county force facing some of the biggest financial challenges ahead is Lincolnshire. Here the voters ditched the main parties and voted for Alan Hardwick, an independent and a former TV presenter.
Rural grant
He knows his way around the force's HQ. As its former head of communications, he may be viewed as the outsider's insider and has his sights set on restoring lost government rural funding.
"It depends on what we get back from the government, " he said.
"A special rural grant worth £1.8m a year was taken away from us. That doesn't make sense and we want that back."
Big promises and big expectations: the new commissioners may not have enthused most of us to vote for them, but that won't deter them from pestering the government over funding.
David Cameron better brace himself for that. After all, police commissioners were his big idea.