MPs' expenses: Minister Helen Grant defends claim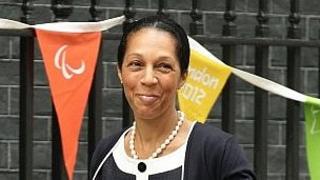 Equalities Minister Helen Grant has defended claiming the maximum expenses for a second home in London despite living 19 miles from the Commons.
Mrs Grant lives in a £1.8m house near her Maidstone constituency and has a taxpayer-funded flat in London.
As a non-London MP, she is entitled to a second-home allowance.
But if she represented the area where she lives - Reigate, Surrey - she would not be able to claim the allowance, Channel 4's Dispatches programme said.
Crispin Blunt, the MP for Reigate, is not entitled to claim a second-home allowance.
'Responsibility'
A spokeswoman for Mrs Grant, whose taxpayer-funded flat is on the south bank of the Thames, close to the MI6 building, said she had acted within both the sprit and the letter of the rules.
"Mrs Grant's constituency has been deemed by the Independent Parliamentary Standards Authority [Ipsa] to be a non-London constituency and she is therefore fully entitled to use her rental accommodation allowance either in London or in the constituency."
As well as her house in Reigate, Mrs Grant had a base nearer her constituency, at her mother's property, where her son also lived, "so she sees no need to rent a further property there," added the spokeswoman.
"The focus of her time and responsibility has always been Maidstone and the Weald."
Mrs Grant stopped claiming second-home allowance for a rental property in her constituency when her mother moved to a house within three miles of it.
'Appropriate'
She had spent nearly 12 months commuting from London to Reigate or to her mother's house despite late-night votes and a journey that took an hour and half, a spokeswoman said in a statement.
"It frequently required hanging around on one, sometimes two, empty station platforms en-route, including Croydon, Purley and isolated Coulsdon South.
"It often ended waiting for a taxi or ultimately making a dark walk home from Kingswood station to her house down partly unlit roads."
As Mrs Grant's workload increased "it started to become apparent that she could not work as effectively, for as long as was needed, if she continued to commute from Surrey or the constituency," added the spokeswoman, and her claims for a flat in London were "appropriate".
But Labour MP John Mann, a long standing campaigner on MPs' expenses, described the minister's actions as "outrageous" and a "farce".
"She is a new MP, she is meant to be one of those with a new mindset," Mr Mann told the BBC.
'Loopholes'
He said the case showed Ipsa needed to change its rules.
"There are loopholes in the rules which Ipsa need to close, but more than that, MPs do need to abide by the spirit of the rules.
"It was MPs failing to abide by the spirit of the rules that caused so much outrage last time," Mr Mann said.
Ipsa confirmed that the minister, who was promoted to the front bench in September's reshuffle, was entitled to a second-home allowance on Parliamentary expenses because her constituency was outside London, and her claim was within the rules.
Its chief executive Andrew McDonald said "it was up to MPs to make those judgements about what they think is appropriate within the rules and it is for the public, through the publication of claims on our website, to take its view as to what is appropriate".
MPs as landlords
Mrs Grant's London flat is supported by expense claims of £1,666.67 per month - the maximum allowed within the rules, which cap rental claims at £20,000 per year.
Mrs Grant has filed claims for rent since March this year.
The claims were uncovered in an investigation by Channel 4's Dispatches programme, which broadcast a film called MPs: Are They Still At It? at 20:00 GMT on Monday.
Dispatches also released information about who MPs are renting their properties from, obtained following a Freedom of Information request.
The details, also published by Ipsa, show that Labour MP Jessica Morden is renting a property from colleague Madeleine Moon, while Iain McKenzie's landlord is fellow Labour member Linda Riordan.
The practice of MPs sub-letting properties to colleagues, who then claim back the rent on expenses, is not against the rules - which only bar MPs from renting from family members and those with whom they have a "business interest".
But it has been criticised as being against the spirit of the new regulations and Mr McKenzie said last month that he probably would not have entered into such an arrangement if he had known the identity of his landlord in advance.
Sir Alistair Graham, the former chairman of the Committee for Standards in Public Life, told the programme that MPs should be using their second homes "for their own purposes to meet their parliamentary duties rather than having some cosy arrangement with some other MP".