Tony Blair's father Leo dies at the age of 89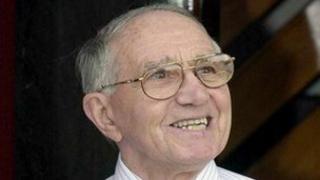 Leo Blair, the father of the former Labour prime minister Tony Blair, has died at the age of 89
Mr Blair was an academic whose jobs included lecturing in law at the Universities of Adelaide and Durham.
He was chairman of his local Conservative association but had to abandon his ambition of becoming an MP when he suffered a stroke in the 1960s.
Tony Blair named his youngest son, born while he was in Downing Street, after his father.
Mr Blair, who was with his father when he passed away on Friday, said he was "privileged to have him as a Dad".
"He was a remarkable man. Raised in a poor part of Glasgow, he worked his way up from nothing, with great ambitions dashed by serious illness on the very brink of their fulfilment.
"He lost my mother, whom he adored, when she was still young. Yet despite it all he remained animated by an extraordinary spirit that was in him until the end. I was privileged to have him as a Dad."