Hospital food 'sourced from animals reared in poor conditions'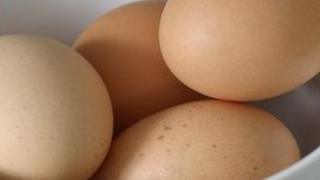 Meat and eggs used in hospital food in England do not meet the animal welfare standards expected by consumers, a survey suggests.
The RSPCA and Campaign for Better Hospital Food study found most chicken, eggs and pork served came from animals reared in basic welfare conditions.
They said this was at odds with the food products people are now buying for themselves.
And they urged the government to take action.
The questionnaire, which was sent to every hospital trust in England, found that 71% of eggs used in hospital cooking are from hens kept in cages.
It also found that around 80% of chicken and pork served in hospitals is from animals reared in conditions that do not meet RSPCA welfare standards.
'Strange'
Yet the RSPCA and Campaign for Better Hospital Food said this contrasts with trends in supermarkets where consumers are increasingly taking account of animal welfare.
They pointed out that more than half of eggs produced in the UK are now cage-free and several supermarkets including Sainsbury's, Waitrose, M&S and the Co-operative have banned cage eggs altogether.
In a separate survey of more than 1,000 adults, seven out of 10 people agreed that the welfare of animals should not be compromised in order to produce cheap hospital food.
The two organisations have called on the government to introduce mandatory minimum standards for hospital food in England, to ensure that all eggs are cage-free and all chicken and pork meets RSPCA welfare standards.
David Bowles, head of public affairs at the RSPCA, said: "It is strange that just when you are at your weakest, you are served food that may not be to your taste and can be from animals kept under intensive conditions.
"Even hospitals serving food made from free range eggs in their coffee shops and cafeterias are still delivering food made with cage eggs to patients."
A Department of Health spokesperson said: "We want the NHS to serve food for patients that's not only tasty and nutritious, but also sourced ethically.
"Patients deserve the highest standards, and they have the right to expect food that is high quality and healthy.
"Individual hospitals decide where they buy their food from, but we are encouraging them to adopt the government's buying standards for food.
"They provide clear criteria that encourage environmental sustainability."