Analysis: Secret recordings suggest growing tensions over energy policy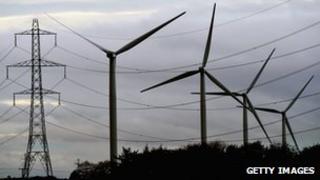 Energy policy is apparently in confusion after a Greenpeace "sting" on senior Conservative politicians.
In secret filming, former cabinet minister Peter Lilley seemed to say he thought the Chancellor George Osborne had deliberately manoeuvred climate sceptic ministers into key positions.
He said the legally binding Climate Change Act should be made voluntary, or simply ignored.
It comes as Energy Minister John Hayes repeated his view that there may be no need for more new applications for on-shore wind farms, once existing targets are met.
This contradicts the policy of his boss, the Liberal Democrat Energy Secretary Ed Davey.
In the Greenpeace video, Mr Lilley appeared to say that Mr Hayes was "duffing up" Mr Davey.
Meanwhile, Mr Hayes told Channel 4 News on Tuesday that "in respect of on-shore wind, with what's built and consented and a small proportion of what's in the planning system now, we will have reached our ambitions in respect of the renewables target. End of story."
When he last made similar comments he was quickly slapped down by Mr Davey, who insisted he was in charge of energy policy.
'Undermining confidence'
With the government's Energy Bill due to be published in the next few months, the renewables industry is calling on the prime minister to "get a grip". It accuses Conservatives of policy brinkmanship.
"The energy minister's comments risk undermining investor confidence, jeopardising much-needed renewable energy projects and the many thousands of jobs they would create throughout the UK," says Maf Smith, Deputy Chief Executive of the wind industry body Renewable UK.
"This is a deliberate attempt to recklessly re-write coalition policy just before the most significant government intervention in the energy markets for a generation."
The Greenpeace sting included Lord Howell, who advises the foreign secretary on energy policy.
Lord Howell - George Osborne's father-in-law - favours increasing the UK's reliance on gas.
But in the video he was seen to warn about the risks to the UK of relying on liquid natural gas imported from Qatar: "Now Qatar's a great place but it's also near to lot of jihadists. (It is) the size of Guildford. If it was to go into chaos we would be up shit creek, we really would."
He suggests the "prime minister doesn't understand (these issues)".
Neither Mr Lilley nor Lord Howell could be contacted for a comment.
Long-term investments
The disclosures demonstrate the tensions at the heart of government policy - tensions that run through the Energy Bill.
The BBC understands that the Lib Dems are insisting that the Bill should contain a target for carbon reduction in the electricity sector by 2030 but the chancellor insists that there should be no target.
This is a critical decision which will inform energy firms whether they should put long-term investments into renewables and nuclear, or gas.
They also will want to know how they are supposed to plan long-term investments if the chancellor will not say years in advance how much subsidy will be allowed to go to clean energy sources from people's bills.
These firms have been crying out for certainty in investment - but that certainty looks a long way off.
The Department for Energy and Climate Change said the government's policy on on-shore windfarms had not changed.