Baroness makes a little bit of history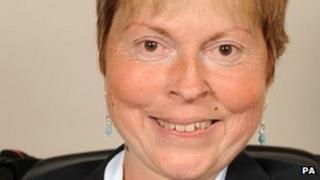 A small piece of parliamentary history has just been made. Lady Campbell of Surbiton, a crossbench peer, has taken part in the second reading debate on the Enterprise and Regulatory Reform Bill.
Nothing surprising about that, you may think. But note this. Lady Campbell is severely disabled and she spoke with the aid of her personal assistant, something that has not been allowed for more than 300 years.
The House of Lords has a rule - known as Standing Order 12 - which dates from 1707 and states that "When the House is sitting, no person shall be on the floor of the House except Lords of Parliament and such other persons as assist or attend the House." In other words, no personal assistants on the floor.
But Lady Campbell has a severe form of spinal muscular atrophy, a condition that means she uses a wheel chair and is reliant on a ventilator to breathe for much of the day. When she speaks, she says she literally runs of out puff after a few minutes and needs to take a moment to recover with a few deep breaths.
Such was the convincing case made by Lady Campbell - and her exceptional circumstances - that the Lords' procedure committee ruled earlier this year that "she be allowed to call upon an assistant both to provide practical and personal help in the Chamber or Grand Committee, for instance in managing papers or taking notes, and, on occasions when she is unable to complete a speech, to read out the text of that speech on her behalf".
Today was the first time that she exercised her new rights. She thanked the House for allowing her to do this, cracked on with her closely argued speech, took a breather after a few minutes allowing her assistant to take over, before resuming the end of her speech.
Amid the hurly burly of Westminster, politics and recent events at the BBC, it is reassuring not just to see such courage on display but also to know that just occasionally the right thing is done.
If you want to read the Lords' ruling, House of Lords - Assistance in the Chamber, Divisions, House of Lords Business - Procedure of the House Committee, here it is.
And if you want to read Lady Campbell's earlier comments about the changes, you can read them here.