Doctors set up new party to fight election on NHS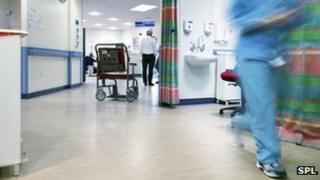 Doctors who are launching a new political party are promising to make the NHS one of the key issues at the next election.
National Health Action has been set up by medics unhappy at the growing role of the private sector in the health service in England.
The party said it wants to field about 50 candidates at the next election.
These will include people to stand against David Cameron, George Osborne and ex-health secretary Andrew Lansley.
But as well as targeting high-profile politicians, the new party will also look to contest seats it believes are winnable.
It is being co-led by Dr Richard Taylor, who won a West Midlands seat in the 2001 election over the closure of Kidderminster Hospital's A&E unit.
'Cherry-picking'
Dr Clive Peedell, the party's other co-leader and a consultant oncologist from North Yorkshire, believes private health firms will undermine NHS services by cherry-picking the care they provide.
"The NHS is being set up to fail. We will see increasing waiting lists and a rising number of people taking out private insurance."
He said the party was not just anti the coalition as it would also consider targeting Labour MPs who had been pro-private sector.
But Prof John Curtice, professor of politics at the Strathclyde University, said he had doubts about what impact the party could have.
"Candidates can make hay with the NHS, as the Kidderminster example showed.
"But the challenge the new party will face is whether they can link the reforms to something that really resonates with voters such as hospital closures or waiting times."
Prof Curtice added: "At the moment - despite the problems the government got into with its reforms - satisfaction with the NHS is still quite high, especially when you compare it to the 1990s.
"And if the NHS is going to be an issue they may find it helps Labour rather than them."
A Department of Health spokesman said: "There is no reason for this party to exist.
"The founding principles of the NHS are not only being protected by this government, but enhanced and extended."