GCSE results could be used to help high-achieving pupils into top universities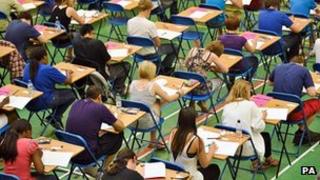 High achieving pupils at schools with poor GCSE results could be offered a less demanding route into higher education, under government plans.
GCSE results data could be used to target schools that fail to send high-achieving pupils to top universities.
Universities Minister David Willetts said he would "love it" it if the best universities could write to young people with the best GCSE grades.
Data protection rules mean that is unlikely to happen.
But ministers believe GCSE results could be used to identify schools in which students get good results at 16 but fail to go on to the top-rated institutions.
Mr Willetts said data could be used to "track" schools with weak records in getting their pupils into leading universities.
Universities could then work with those schools, encouraging students to apply and potentially making them "less onerous" conditional A-level offers.
'Merit-based'
In an interview for BBC Radio Four's World at One, Mr Willetts said universities were "entitled to look behind" A level grades to decide who to admit. Information from student loan repayments may also be used to provide more accurate information about what people can expect to earn once they graduate from courses.
The ideas follow a push, announced by the Deputy Prime Minister Nick Clegg earlier this year, to make information about social mobility more transparent.
Students from "tougher backgrounds and less academic schools" appear to out perform when they get to university, Mr Willetts said.
He added: "Universities are entitled to look behind the A level grades to assess who are the people who are going to be the best performers at university. That's why I say my criteria is actually merit, it isn't social engineering."
University admissions have long been central to the debate about social mobility.
Research from the access regulator Offa indicates the richest 20% of young people are seven times more likely to enter the most selective institutions than the poorest 40%.
'Well-intentioned'
Professor Les Ebdon, the new head of the Office for Fair Access (Offa), has urged universities to set themselves "challenging" admissions targets.
MPs on the Commons Business, Innovation and Skills select committee voted against accepting the appointment of Prof Ebdon and called for the recruitment process to begin again but he was later confirmed in his post.
Offa can fine universities up to £500,000 for breaching access agreements.
Some MPs fear that Offa could compromise universities' independence in running their own admissions.
The Conservative backbencher Rob Wilson said he supported Mr Willetts' ideas but warned: "My concern really is with the Office for Fair Access and with Les Ebdon is that we have an apparatus which has been put in place that however well intentioned David Willetts is and this government is, that apparatus is there for future governments."