Corby by-election: A swinging constituency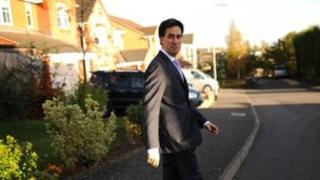 Voters in Corby, Northamptonshire, go to the polls on Thursday to choose a new MP following the resignation of Conservative Louise Mensch - what are the issues they care about?
It is a road like thousands of others, winding its way through the English countryside, far from the choked-up thoroughfares of Westminster.
In fact, it is nowhere near London at all.
Yet every politician knows that the A427 is the road to Downing Street - because the A427 passes through Corby.
You've got to win Corby if you're going to win power - it's the classic electoral barometer.
The winning party here has come out on top in every general election in the past 30 years - and the gritty former steel-making town, ringed by affluent villages, has regularly swung between Labour and Conservative.
That is why the party leaders are so serious about winning here in Thursday's by-election.
Ed Miliband has visited Corby no fewer than four times.
Serious scrap
With a healthy lead in the national opinion polls, the pressure is on Labour candidate Andy Sawford, son of former Kettering MP Phil, to overturn Louise Mensch's 1,951 majority.
If Labour fails to win, it will be seen as a major setback for Mr Miliband, a sign that he is still struggling to make headway in the southern half of the country despite a concerted effort to do so in recent months.
The Conservatives would dearly love to hold on to the seat. Like most prime ministers, David Cameron does not always find the time to hit the by-election campaign trail, but he has made an exception for Corby.
But a victory by Tory candidate Christine Emmett on Thursday is starting to look like a plot development not even Mrs Mensch, a former novelist, would dare to write.
There is also a serious scrap among those who don't expect to win, with Liberal Democrat Jill Hope and UK Independence Party (UKIP) candidate Margot Parker battling it out for third place.
The constituency is part beautiful Northamptonshire countryside, part industrial town, with a strong Scottish heritage linked to the thousands of workers who travelled to work in the British Steel plant that once dominated the skyline.
Steel making has long since given way to manufacturing and distribution warehouses as the principal source of employment.
And in recent years many of these manual jobs have been taken by East European workers who have moved into the town in large numbers.
Resentment
Youth unemployment across the constituency is growing faster than anywhere else in the country.
It's a recipe for resentment among locals.
One man - a committed Labour voter who works for Argos at their nearby distribution centre - told me he is facing redundancy, as are dozens more of his colleagues.
"I've got Polish friends," he stressed, before admitting his sense of frustration.
"I don't know where to start... you feel racist if you try to talk about it."
Yet there is little evidence voters here want to capitalise on their significance as barometers of the national political mood. Apathy reigns supreme.
At the florists where I met the Argos worker, the manageress told me she was a Tory through and through, but won't be heading to the polling station on Thursday.
"I do at the general election, but not now," she said.
A few miles away, in the village of Kings Cliffe, Karen O'Sullivan runs a bakery.
It's a good bakery. The husband and wife team have been around for 25 years.
Step into their stone cottage shop - they live upstairs - and the warmth and smell transports you to a simpler time.
But Karen said she "probably won't vote" on Thursday.
Mensch factor
She's a Tory, she's pleased with what the coalition's done over the past two and a half years to deal with "the mess left" by Labour. But she seemed genuinely uninterested in polling day.
There may be a Mensch factor.
Some Conservatives admit privately that supporters are angry about the way their former MP departed, mid-term, for a new life in New York, with her rock band manager husband and young family.
Whether it's on Mensch or foreign workers, UKIP believe they can make serious headway in Corby.
They're encouraging people to come to them as a protest vote. There's serious talk of - maybe - coming second, which would mean eclipsing the Conservatives.
The most optimistic person I met was Denise Liquorish, a Lib Dem voter in her mid-50s who is looking for work.
"Corby's really on the up," she told me. "Everyone is pulling together."
But it was a young mum, on her way home from shopping, who showed best the changing pressures within the barometer that is Corby.
Mary-Therese Smith said she had just secured a full-time job at the new Tesco, starting in January.
She benefited from a quota of places going to people at her local job centre.
'Baby on the motorway'
But it is not jobs or foreign workers that has influenced her voting choice - it is having a baby and using the NHS.
She is worried about plans to change services at the local hospital.
Proposals for Kettering General, including reducing the number of beds and reviewing maternity services, formed the central plank of the Labour campaign.
"Someone might end up having a baby on the motorway" if they have to go further to get to hospital. she said.
The motorways and trunk roads around Corby are the reason it has established itself as a major distribution hub for the UK.
The lorries leaving here carry everything from electrical components, to steel tubes, to Weetabix.
There are signs the area is undergoing a revival, with the resumption of a train service to London, and an eyecatching, if wildly over budget, new civic centre.
The fastest growing youth unemployment in the country, coupled with a large number of foreign workers means there will be a long, hard journey ahead for whoever wins on Thursday.
But they will at least have the comfort of knowing they are on the right road for Downing Street.
Here is a full list of the candidates in Thursday's by-election:
DAVID LAURENCE BISHOP - Elvis Loves Pets Party
CHRISTINE EMMETT - Conservative
IAN FRANCIS GILLMAN - Independent
JILL HOPE - Liberal Democrats
JONATHAN HORNETT - Green Party
DR ROHEN KAPUR - Young People's Party
ADAM LOTUN - Independent
MR MOZZARELLA - Independent
MARGOT PARKER - UK Independence Party
PETER REYNOLDS - CLEAR Cannabis Law Reform
GORDON RIDDELL - British National Party
ANDY SAWFORD - Labour Co-op
CHRISTOPHER SCOTTON - United People's Party
DAVID WICKHAM - English Democrat