Politicians are angry but they are not questioning the BBC's future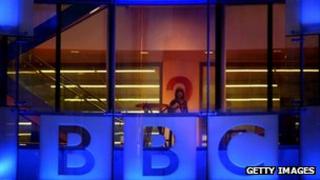 "Hard to justify…not right… a matter for his conscience".
Today MPs of all parties lined up to condemn the pay off to the former Director General of the BBC, George Entwistle.
Self-proclaimed friends of Auntie said the £450,000 payment was making their life harder.
Long time critics said it proved that the Corporation is badly run and that its chairman Lord Patten should now face the chop.
What was most interesting today though was what didn't happen. Neither the prime minister nor the leader of the opposition said anything about it.
David Cameron chaired a Cabinet meeting in Bristol and faced questions at one of his Cameron Direct meetings. He chose to say nothing about the BBC or the pay-off.
Ed Miliband did a series of interviews for the ITV regions. He also said nothing on the subject. Both men have taken a conscious decision not to add to the BBC's troubles.
Even the Culture Secretary Maria Miller and her shadow Harriet Harman in the Commons were very careful to proclaim their support for the BBC's independence and for Lord Patten before going on to question the amount paid to Mr Entwistle.
Miller insisted that it was for the BBC Trust to justify the pay-out and suggested that the National Audit Office might like to examine whether it was value for money.
All this is due to something leading politicians and BBC mandarins understand but is a mystery to most licence fee payers.
Neither government nor Parliament runs the BBC even though MPs do vote every few years to preserve the BBC by renewing its Royal Charter and set the level of the licence fee whilst the government appoints the Chairman of the BBC Trust which does regulate it.
The BBC's reputation rests in part on being able to say that politicians have no influence on editorial decisions or appointments.
Lord Patten has justified the pay-off of a year's salary by saying that that's what Entwistle would have got if he was sacked instead of resigning which entitled him to only half that amount.
In other words, he believed it was price worth paying to ensure a swift dignified resignation rather than a messy sacking after protracted legal negotiations.
In theory the government could sack the chairman of the BBC Trust by what's called an Order in Council which are issued "by and with the advice of Her Majesty's Privy Council".
There is not the slightest chance of this happening. The only other way Lord Patten will go is if he decides to resign after pressure from fellow trustees or the public or if he becomes bankrupt, mentally incapable or fails to turn up to meetings for three months without permission.