South Yorkshire PCC poll: Barnsley apathy suggests low turnout
Len Tingle
Political editor, Yorkshire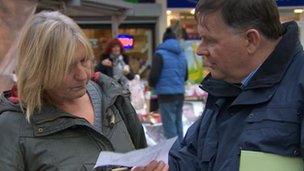 Will the police and crime commissioner elections break all records for low turnout?
That could be a tad optimistic judging by the reaction I got on the streets of Barnsley with less than a week to go before the polls opened to choose the £85,000-a-year commissioner for the South Yorkshire force.
Few of those I buttonholed in the town's outdoor market had any intention of voting. I did not find a single one who could tell me the name of a candidate.
It is not as if Barnsley is one of those places where voting has gone out of fashion.
At the parliamentary by-election just 18 months ago 36% of voters turned up at the polling booths or sent in their postal ballots.
That was considered a very low turnout at the time but could now be a dream scenario for the PCC candidates across the entire country.
Barnsley's bewilderment was increased when I asked my randomly-selected shoppers if they had any idea that they will be able to put two crosses on the ballot paper.
"If nobody gets more than 50% of the vote on the first ballot then the top two candidates will go to a run-off. That's when the second preference votes come into play. Of course, you don't have to make a second choice if you do not want to support any of the other candidates," I explained.
By this point most people had staged their own run-off, suddenly remembering they were in imminent danger of missing their bus. I suspect even the ones who had come to town by car gave me the same excuse.
So not that many heard me continue.
"If the candidate you put as first choice gets through to the run-off then your second preference is not counted. All the other second preferences are added to the totals of the top two candidates and the winner is the one with the most votes."
Across England just North Yorkshire and Staffordshire will be using the traditional "first past the post" system where the winner simply has to have the most votes. That is because just two candidates are standing in those areas.
I had just one Barnsley shopper who stayed around long enough to ask me the obvious question.
Why are we using this system?
Well, the theory is that a "Supplementary Vote" system makes it fairer for a smaller party or an independent candidate to have a chance of winning.
For public elections it has been used just once in Yorkshire. It resulted in the then little-known English Democrat Peter Davies being elected as Mayor of Doncaster in 2009.