PCC elections: Turnout will not affect mandate - May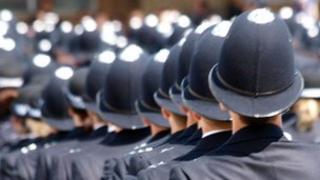 Elected police commissioners in England and Wales will be the "voice of the people" no matter how low the turnout on Thursday, Theresa May has said.
Some experts believe fewer than 20% will vote in the first Police and Crime Commissioners (PCC) elections.
But Mrs May said those elected will have more of a democratic mandate than unelected police authorities - and will not undermine police independence.
Labour accused her of "running away from her responsibility for turnout".
Mrs May pointed to London, where there will be no elections on Thursday as Mayor Boris Johnson is already - in effect - an elected police commissioner, as an example of how the system can work.
'Strategic direction'
Mr Johnson, who has oversight of the Metropolitan Police, had prompted more officers to be assigned to dealing with concerns about safety on late-night public transport, she told the BBC's Andrew Marr show.
"What we have seen with the mayor is that he has absolutely laid out in strategic terms and certain areas what he wanted to see being tackled - problems with late night transport - and that has happened.
"He has been able to do that and take the voice of the people to the police, but on the other hand champion the police as well."
She also hit back at claims that elected Police and Crime Commissioners would undermine the police's operational independence.
"The chief constables will retain their independence. They decide who they are going to arrest, who they are going to investigate.
"The police and crime commissioners set the strategic direction for the police. I don't think there will be a conflict."
'United voice'
The Conservatives had hoped the new commissioners would be politically independent, but only 54 of the 192 candidates are not linked to a party.
But Mrs May said it was early days and more independents could put themselves forward in future elections.
And she blamed the Labour Party, which has fielded a number of former MPs in contests around the country, for putting voters off.
But Shadow Home Secretary Yvette Cooper, for Labour, said Mrs May would be to blame if there was a low turnout on Thursday, as she chose to hold the elections in November, traditionally a poor month for getting people into polling stations.
"The home secretary cannot run away from her responsibility for turnout in these elections.
"Theresa May chose to hold these elections in November rather than May, causing confusion even among Tory MPs."
She added: "This was supposed to be a flagship government policy yet ministers have shown terrible carelessness towards these elections and the future of policing," said Ms Cooper.
"Despite this incompetence we are urging people to vote on Thursday and send a message to the government that they are wrong to cut 15,000 police officers, undermining the fight against crime."
Labour voted against elected police chiefs in Parliament and Ms Cooper claimed the cost of the elections "could have been spent on 3,000 police officers instead".
Labour claims holding the elections separately from local elections in May will cost £100m, but the government says it is £25m and the money will not come out of the police budget.