BBC not facing "existential crisis," says No 10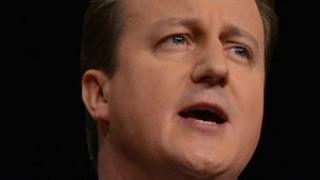 Downing Street does not believe that the BBC is facing "an existential crisis" following the resignation of the director general George Entwistle.
The prime minister believes the corporation must sort its own problems out and does not want the government to get involved, sources say.
Labour leader Ed Miliband said the BBC needed "to sort out its problems".
Mr Entwistle quit after a Newsnight report led to a former Tory treasurer being wrongly accused of child abuse.
BBC Trust chairman Lord Patten has said a "thorough, radical, structural overhaul" of the corporation is needed. He said a new director general would be appointed within weeks.
Number 10 says that although Mr Cameron believes the current situation is "very difficult, very serious", the corporation has been through serious crises before and survived.
'Show grip'
Sources say the prime minister believes the BBC is "one of the great institutions of this country" and it has the capacity to reform itself and to address failings.
Mr Cameron - say his aides - believes the BBC needs to "show grip" and that Lord Patten "has started to make the right noises."
"We are not going to make a whole series of pronouncements," said one Downing Street source.
"That would not be appropriate and would compromise the editorial independence of the BBC.
"The key word for us is 'grip' - the BBC needs to show grip."
Ed Miliband gave his reaction to the latest developments in a message on micro-blogging site Twitter.
"BBC needs to put in place strong DG and reforms to sort out its problems. Essential to restore trust in one of our great national assets," said the Labour leader.
Labour deputy leader Harriet Harman also warned against compromising the corporation's editorial independence and said a period of "stability" and "rebuilding" at the BBC was needed.
"One of the things... the government must resist, is we must not allow the next victim of this debacle to be the independence of the BBC," she told Andrew Neil on the Sunday Politics.
She added: "We don't want politicians or parliamentarians, however well motivated, to start micro-managing this. It's dangerous for us to be doing that."
'Decent man'
When asked whether Lord Patten should also resign, she said "I think he's got an important job to do as chair of the Trust. He's got to be leading it forward."
But Lord Patten's former cabinet colleague David Mellor suggested the BBC Trust chairman's job was on the line.
"I'm not going to say to an old friend resign, but if I was him I'd consider whether I am... tainted by this nonsense," he told Andrew Neil.
Conservative MP John Whittingdale, chairman of the Commons Culture, Media and Sport committee, said Mr Entwistle's resignation would not prevent further bloodletting at the BBC.
He said: "If George Entwistle was unaware of the programme, which he says he was, then clearly somebody below him took the decision that it was right to broadcast it.
"That was a terrible decision and people need to take responsibility for that. So, potentially, it may require other people to resign."
Labour former culture secretary Ben Bradshaw, an ex-BBC correspondent, said: "Given that in my view George Entwistle - who was a good man, a decent man trying to do his best, only a few weeks in the job - was grossly, grossly let down by people beneath him, and I don't think supported enough by people in the Trust, I think it cannot end here."
On 2 November Newsnight reported abuse victim Steve Messham's claims that a leading 1980s Tory politician was an abuser in north Wales, but he withdrew his accusation a week later, saying he had been mistaken.
Lord McAlpine, although not named on Newsnight, was identified on the internet as the subject of the allegations. He said the claims were "wholly false and seriously defamatory".
Mr Entwistle had faced mounting criticism of his response to the programme in an interview with John Humphrys on BBC Radio 4's Today programme.
He was criticised for not knowing about the programme at the centre of the row until after it screened and for not being aware of a newspaper article which revealed the mistaken identity, and for not knowing about a tweet saying Newsnight was poised to broadcast the revelations.