'Focus on abuse' amid BBC crisis, urges MP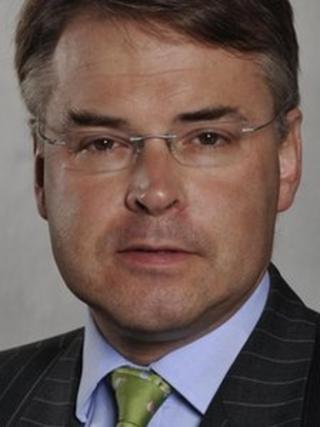 The current leadership crisis at the BBC should not overshadow child abuse allegations which sparked it, a former children's minister has said.
Director general George Entwistle quit over Newsnight's reporting of north Wales child abuse and a shelved report on abuse by ex-BBC DJ Jimmy Savile.
But MP Tim Loughton said the media focus on the resignation was "deeply frustrating".
"We really mustn't forget that this is about child abuse," he said.
"This is about vulnerable children and young people, going back many decades, who have been subject to pretty horrific abuse," Mr Loughton said, who was a children's minister until September.
"In the vast majority of cases, it is by ordinary people, people in positions of trust who are there to look after them and singularly failed.
"I fear the publicity around the witch-hunt of celebrities and high-level figures is detracting from the real purpose - which is to root out child abuse that has gone on in the past, bring the perpetrators to book, give the victims some closure and make sure that it's not happening in 2012."
Abuse centring on children's homes in north Wales - and specifically the Bryn Estyn home near Wrexham - began to emerge in the 1990s, but were highlighted again this month when victim Steve Messham spoke to Newsnight, claiming that the Waterhouse inquiry, released in 2000, had uncovered only a fraction of the abuse.
On 2 November, Newsnight broadcast a report that Mr Messham claimed a leading 1980s Tory politician had abused him. But he then withdrew his accusation a week later, saying he had been mistaken.
Lord McAlpine, although not named on Newsnight, was identified on the internet as the subject of the allegations. He said the claims were "wholly false and seriously defamatory".
The BBC unreservedly apologised for broadcasting the report.
Mr Loughton said that due to the "shoddy journalism" by Newsnight, there were "now some questions being put on the testimony of various witnesses, and one in particular.
"No-one is denying the child abuse has happened. We know it has happened in north Wales children homes because people have gone to jail for it, we know it has happened in the Church, we are now investigating what's happening in BBC.
"But what I hope this doesn't lead to is victims who have been suffering in silence for many years, who were deterred from coming forward, were now thinking 'I daren't raise my head above the parapet'."
Lib Dem AM Aled Roberts, chair of a Wrexham council panel which implemented the recommendations of the Waterhouse report into the abuse a decade ago, said it was vital that those working in child protection today remain vigilant.
Mr Roberts says the reasoning behind the decision not to prosecute people identified by that inquiry was "worrying", and he questioned whether that decision was "properly taken".
Home Secretary Theresa May announced two inquiries last week into the north Wales abuse claims - one reviewing the Waterhouse inquiry, and one looking at the police handling of the historic claims as well as fresh allegations.
On Sunday, she said those inquiries would continue.
Newsnight was also criticised for shelving an earlier report into allegations that the late BBC presenter and DJ Jimmy Savile had abused young people over many decades.
There are numerous investigations into the Savile abuse, with the police, the NHS, the BBC and the director of public prosecutions all investigating various aspects.
Mrs May said she was not yet persuaded that having a single overriding inquiry into child abuse was the right thing.
"I've said that if at the end of establishing the facts there is a case, then, of course, we will look at it. Let's let the police and others get on with the job of establishing the facts."