PCC elections: low turnout vote dismissed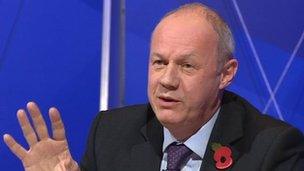 Police Minister Damian Green has dismissed concerns that low turnout will undermine the elections for police and crime commissioners (PCCs).
"If you don't vote you can't complain afterwards," Mr Green told the audience for the BBC's Question Time programme.
The introduction of PCCs in England and Wales would "improve the way we do policing", the Conservative MP said.
But Lib Dem peer Baroness Williams said she was concerned candidates would try to "panic people" into voting for them.
Voters in England and Wales but not London will go to the polls on 15 November to elect a PCC to oversee policing in each of 41 police force areas, but there have been predictions turnout will be less than 15%.
Mr Green faced sceptical questions from members of the public on the government's decision to introduce PCCs, who will be paid between £65,000 and £100,000.
"I'm fascinated that people seem not to want democracy," he remarked.
Salaried PCCs "should" cost taxpayers less than police authorities, the current bodies charged with overseeing police forces, the minister said.
"You have the choice of selecting somebody. You can then hold them to account. If they do waste money, you can then chuck them out after four years," he said.
PCCs would also make a repeat of the "huge cover-up" over the Hillsborough stadium disaster less likely, Mr Green argued.
"Electing people who are responsible to the public, who can shine a light on the individual police forces seems to me a significant step forward, not just for democracy, but actually for improving the way we do policing in this country, for a long time to come," he said.
"If we'd always had democracy in this area, nobody would say 'Please take away the choice'."
But Baroness Williams compared the policy to the situation in the US, where many states have long had some form of democratic involvement in the justice system.
"I've spent many years of my life in America, and I think you do get people who play to the 'hang 'em, flog 'em' brigade," she said.
"I think there's a real danger of that," she said, "You get an attempt to try to panic people, 'Vote for me and I'll end crime', and the crime rates in America are very substantially higher than they are here."
She proposed a series of alternatives to directly elected PCCs: "We've got to have a more effective system of inspecting police, we've got to be tougher about their standards, and if I can be sexist for a moment, we've got to have more women police, particularly when dealing with domestic violence and things of that kind, who will actually be able to understand what it's like to be a child or a woman who's being abused."