Will UK politicians read too much into how Obama won?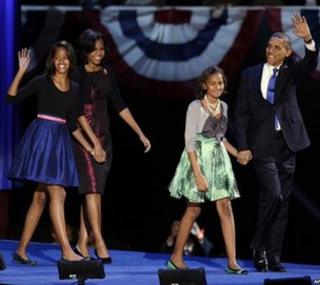 Ah, the ecstasy of a US election! The anticipation of the primaries, the admiration of the long campaign, the envy of the zillions being spent, the thrill of the attack ads, the excitement of the exuberant conventions, the sheer joy of the fight! Never let it be said that the world of Westminster does not get aroused by the democratic process on the other side of the water.
Elections may come and go in Europe but they disappear, largely ignored by the denizens of London SW1. As for American polls: well, wow! We just cannot get enough of them. Today we are all experts in the psephology of Ohio. Who cares of Corby when you have Colorado?
And now that President Obama has won, prepare yourself for a torrent of analysis about what this means for British politics. The read-across in policy, the campaign techniques to copy, the lessons to be learned for 2015.
A word of warning. Much of that analysis will be balls. We have a different electoral system, we have a different political system, we have a different demographic, we have less money. We do our politics our way. Yes, there are clearly some lessons we can learn. But too much will be read into the tea leaves of Obama's victory. As we know, it is always hard to find a good cup of tea stateside.
But with that proviso in mind, it is worth attempting a few cautious conclusions:
Something for everyone: The Tories say Obama and David Cameron are on the same strategic page. They are both slowly turning around a sickly economy, they are both blaming their predecessors for the mess, they both share the same rhetoric of being all in this together. But equally Labour say that Obama is echoing much of Ed Miliband's message of One Nation politics, bringing the people together, creating a fairer economy, the many not the few and so on. You pays your money and you takes your choice.
Incumbency: David Cameron and Nick Clegg may be encouraged by the idea that incumbents can win despite economic gloom. Unlike leaders in Italy, France, Greece, Ireland and elsewhere, Obama has bucked the trend and won even though he has 8 per cent unemployment. But note this: Obama just had to win back disillusioned supporters who had voted for him in 2008. If Mr Cameron wants to win a majority, he has the extra challenge of persuading people who voted against him in 2010 to vote for him in 2015. If people chose Gordon Brown over Mr Cameron two years ago, how much harder will it be to persuade them to vote Conservative next time? Some in Labour think the lesson from this election is that incumbency is not the safety blanket it once was. They note that Obama was almost pipped to the post by what many saw as quite an average Republican candidate.
Austerity: Ed Miliband will be encouraged that a leader who has spent hundreds of billions of dollars trying to stimulate his economy can win an election. He will be further interested in how the draconian cuts due in the US next year - known as the "fiscal cliff" - will impact on the argument for austerity. Expect lots of claims from Labour about how US spending cuts risk contracting an economy that is vital for British exports.
Debates: Television debates can make a difference. They are focal points when many voters engage in an election for the first time. Performances can defy expectations and inject momentum. Yes, their importance can be exaggerated. But Mitt Romney's comparative success against a lacklustre Obama in the first debate gave his campaign an undoubted boost.
Unenthusiasm: The US electorate did not appear to be hugely enthused by either candidate or their campaigns. Many voters appear to have seen the election as a choice between the least bad options. The same may be true for British voters in 2015. One lesson for politicians here may be how to be the lesser of two evils rather than the great hope for the future. How much appetite will there be among voters for hyperbolic ambition and rhetoric? The key test for both Mr Cameron and Mr Miliband is how to frame a message that is optimistic yet realistic at the same time. We have just seen how hard it was for such a competent politician as Obama.
Demographics: Sectors of society matter in elections. One lesson from the US is that political parties have to do more to target women, ethnic minorities, young voters, older votes and so on. At the very least they cannot ignore them. The Republicans clearly did not do well enough among women and Latinos and others. That factor will play into the internal Conservative debate about how Mr Cameron should appeal to those who did not vote for him in 2008.
Division: Divided parties do less well in elections. Many Republicans appeared to doubt that Mitt Romney was the right candidate for their party. He appeared to swing between appealing to his party's core to appealing to its more moderate supporters. Conservative MPs keen on fighting their party leader over Europe might wonder if voters see division first and the issue second. Many observers in the US have said that Romney's campaign became competitive the moment he appealed to the centre, when he took his message to independent voters in the mid-west.
Personalities: Negative campaigning only gets you so far. Obama vigorously targeted Mitt Romney's reputation. And yet once the Republican candidate got to his feet in the television debates, many Americans appeared to be pleasantly surprised that he did not have horns and a forked tail. He came across as reasonable. There is a danger of trying to demonise a candidate if the nation thinks otherwise. Nota bene all those Tories hoping to portray Ed Miliband as odd. Voters will make up their own minds and there is a risk in exaggerating perceived negatives.
Terrorism: If you can send a team of special forces to foreign parts to assassinate a global terrorist leader in the year before your election, it will do you no harm. Might not be an option open to David Cameron but worth bearing in mind. But don't mess it up. Jimmy Carter sent helicopters in to rescue US hostages in Iran, and look where that got him.