MP's concern over 'sticky' police ballot forms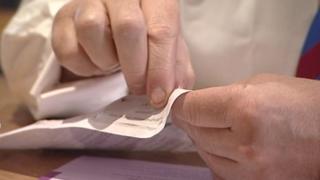 The US presidential elections gave us the infamous "hanging chads" - the ballot form indent that created doubts over a voter's preferences.
Could the Police and Crime Commissioner elections back home give us the "adhesive doubt" ballot?
An East Midlands MP has voiced concern that many postal votes for the police commissioner elections could be wasted.
Mark Spencer fears the use of adhesive labels on some forms could easily rip the ballot and disqualify some postal votes.
Many who've applied for postal ballots will already have received their forms.
But not all ballot forms are the same. Mine arrived in the post from Rushcliffe Council; the form just required my first and second choice of candidate and my signature as verification.
But in the Gedling district of Nottinghamshire, the form includes two sticky address labels: one has the voter's verification details, the other is the forwarding address to the local council's returning officer.
Even for the most active and experienced of voters - and Mark Spencer should know, he's an MP - the ballot form labels have been something of a problem.
"The worry is quite straightforward," said the Sherwood MP.
"If voters manage to get the sticky labels off and damage the ballot form, will it make the vote invalid? And if you write on it, will it be accepted? It's not very clear."
The Conservative MP's further concern is that struggling with removing the sticky labels will be a barrier for some.
"They won't bother to use their postal ballot in an election where low turnout is likely to be an issue," he added.
His mother Dorothy also had difficulties peeling off the sticky labels without ripping the ballot form.
"I just couldn't get the labels off. I thought something's wrong here," she said.
In a statement, Gedling Borough Council said they're only aware of four voters who've experienced difficulties.
"Every batch of postal ballot packs was checked by the elections staff at the factory which produced them," it said.
The Spencer family have been sent replacement ballot forms.
But with elections very soon, some postal voters - if they struggle with those labels - may face a sticky end.
They are now being urged by Mark Spencer not to leave it too late to request replacements.