Osborne urges tougher international tax laws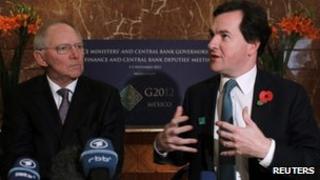 George Osborne has promised to work for tougher laws to stop international companies shifting profit to avoid tax.
The chancellor and his German counterpart, Wolfgang Schauble, said co-operation between countries was needed to close loopholes
Several high-profile firms, including Starbucks and Google, have been criticised over their tax arrangements.
Mr Osborne added "strong standards" must not damage the UK's attractiveness to large international companies.
US coffee giant Starbucks is reported to have paid nothing in corporation tax to the UK over the past three years, while Google contributed £6m to the Treasury in 2011 on a UK turnover of £395m.
'Strong standards'
At a G20 meeting of finance ministers in Mexico, Mr Osborne and Mr Schauble urged their counterparts to back work by the Organisation for Economic Co-operation and Development to identify possible gaps in tax laws.
Mr Osborne said: "We want competitive taxes that say Britain is open for business and that attract global companies to invest in and bring jobs to our country, but we also want global companies to pay those taxes.
"The best way to achieve that is through international action that ensures strong standards, without pricing ourselves out of the global market."
Mr Osborne said the UK and Germany were "starting a process".
Mr Schauble added: "I am hopeful that we will get a lot of support."