Ministers urged to tackle nuisance texts and cold calls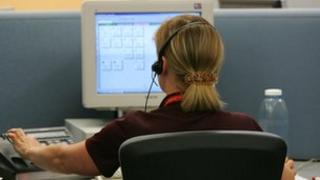 Peers have urged the government to act to stop firms cold calling and sending unsolicited text messages.
Labour's Lord Kennedy called unwanted offers of compensation payments, insurance and loans a "scandal".
And Tory Baroness Gardner said she was called up to four times a day with offers of "wonderful things".
Minister Lord McNally admitted he still received unwanted messages despite paying for a "blocking" scheme, but promised more help for consumers.
Phone calls and text messages saying recipients are entitled to money, promising to write off debts or find a loan, or suggesting accident compensation can be claimed, have soared in recent years.
The Information Commissioner's Office says firms will face raids and fines of up to £500,000 for sending unsolicited offers, which can sometimes end up costing - rather than benefiting - the consumer.
'Rational decisions'
In Parliament, Lord Kennedy of Southwark said: "The mis-selling of payment protection services is an absolute scandal, but the activities of some claims management companies is also a scandal.
"Does the noble lord agree that there is a serious problem with this industry? If so, what is the government going to do about it?"
Lord McNally replied the government was working to make sure "the consumer has sufficient information to make rational decisions".
He added: "At home we are supposed to be on this blocking mechanism that we signed up for, but they still get through."
Many texts received can be from legitimate companies, and come after a box is ticked, or terms and conditions are agreed to that allow the company to get in touch.
But others are randomly generated, and are against the law if no consent has been given to allow such messages to be sent.
These companies do not know anything about the recipient or their finances, or even if the phone number is real. If a reply is sent, the number becomes more valuable because the sender knows it is genuine.
Baroness Gardner of Parkes complained: "I'm getting about six phone calls a week, sometimes three or four a day, all offering me wonderful things."
Lord McNally said a group of industry regulatory bodies was looking at the issue and would report on how to tackle the "nuisance".
He promised to provided a written House of Lords reply to the peers' concerns.